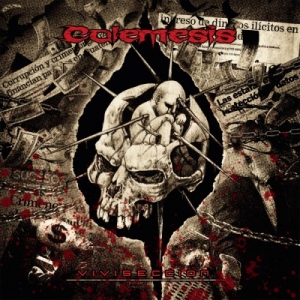 Release Date:
Monday, February 29, 2016
Both Satanath Records and Symbol Of Domination Productions, respectively parent label and sub-label by my dear brother-in-arms Aleksey, have some connections within the Costa Rican Metal Mafia, I guess. In the (recent) past I did write some reviews for those labels for releases by acts such as Alastor Sanguinary Embryo, Inhuman, Corpse Garden or Ancient Spheres, and pretty soon I will also upload some other, more recent chronicles, like for the split of Ubiquitous Realities and Assailant, The Eyes Of Desolation, or Black Whispers (an international project that also includes members of Lifeless and Sacrimoon). Just enter any of these bands' / projects' names in the 'search' tab to enter the, evidently, great and positively, professionally written review…
Another co-operative result in between this Russian label and the Costa Rican scene is a re-release of Vivisección, the debut of Colemesis. This band started in 1991, and Vivisección was the first (official) demonstrational release, originally done in 1992. This self-released demo was recorded during Spring 1992 at My House Studio within a line-up of which no one still is part of the band (they disbanded at the very beginning of this millennium, and reformed at the very end of last decade, with inclusion of a drastic change in approach and style). This new edition is remastered and comes with new artwork and a somewhat adapted track listing (with inclusion of some bonus material), and this in an edition of 500 copies.
It's quite evident that this release's Death Metal exhales the purity of the Old School, for the origins are rooted within the earliest nineties. At that time, and within the Latin-American scene, things were different from the North-American or European scene, yet actually, back then the initial try-outs were quite comparable in atmosphere: bringing bruteness at the one hand, and a certain elegance at the other. Colemesis were such a band that easily found their way in between both extremes. At the one hand you have the powerful and overwhelming heaviness. Quite forceful, pushing-forward rhythms and monstrous riffing do hammer like a bulldozer. The rhythm section is impressively massive in execution, and the truly deep, growling grunts are so overpowering, sickened, brute. The elegance, at the other hand, finds it source in different angles too: the fabulous solos and leads, for example, progressive in their execution, or the elegant twin melody lines that appear within each single composition. I'd like to come back to the first element of elegance, the leads. They act like a perfected counterbalance to the monolithic rhythms, yet without undermining these aggressive outbursts. Actually, they are sort of adding an additional surplus in order to create that little something that might be needful to overpower the 'average' scene. That goes as well, for example, for the additional screams, or the sharp-edged riffs, that penetrate the border with the European Deathrash scene from that very same era. Quite impressive are the technically high-skilled elements, progressing the time setting, yet without losing itself in exaggeration. Truly, at that period there were not that much European or American bands that knew how to combine ingenious riffing with powerful rhythms and maintaining honest conviction. Colemesis, however, did.
Anyway, in 1992 this release would have belonged to my top-ten within the international Death Metal scene (and believe me: that era was quite fabulous!), and that's why I do recommend this album to everyone who likes his (or her) meat still red, even still pulsating…