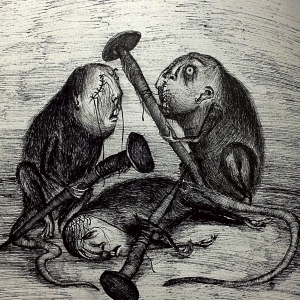 Cor unum, essentia una sumus (one heart, we are one essence)… One truth, the core of ritualistic in-depth and the spirituality of the Dark Side…
Russian Ambient musician Ilya is not only one of the human beings behind mighty Corona Barathri, but in 2019 he also started his new label Speculum Diaboli Records (focused on dark spirituality and the Devilish essence). The first release was one of his main project Corona Barathri (it was called Speculum Diaboli, by the way) (link: see below), and the second release is a split in between this outfit and the mysterious one-man project Paranoia Inducta. This split has been released on compact disc (two quite limited versions) and via the known digital sources, and it comes with extraordinary, yet quite unusual and specific cover artwork.
The recording is, and I will quote, devoted to the Great Plague, the Black Breath bringing death […]. It is quintessence of horror in black soundscapes. The Sign of Pestilentia. Both projects involved bring an act divided into separated (yet related) chapters, referring to the pestilential plagues that tried to decimate the human race several centuries ago. It's like a tribute to pandemic solution, to redeem our beautiful Mater Terra from humanity.
[I actually wrote this introduction a couple of months ago, before the current plague took over inter-human existence. Topical and prophetical? Recorded and released before the current corona pandemia, and therefor so nowadays.]
This soundtrack for human annihilation opens with five lengthy (in between eight and eleven minutes) pieces by Corona Barathri, which still is the sonic partnership of Ilya Affectvs and Kein, who also took care of this album's mastering duties at the IHF Studio. It starts with 1347: Memoria (eleven minutes of duration), which features Paranoia Inducta as guest / session musician. It starts quite cool and calm, yet very threatening and ominous: soft sounds at the background, and a sample with spoken words, sounds, crows, bells etc. That fragment actually comes from the movie Black Death (2010) (with e.g. Sean Bean and the beautiful damsel Carice Van Houtem), and summarizes the who concept. After two minutes or so, the whole things turns grimmer, with suffocating, eerie sound layers at first, that slowly yet permanently evolve. …until things get really nasty, when industrialised elements join. Then, and that sort of characterises this project, Corona Barathri introduce their haunting, wretched strings (cello, violin), appearing, disappearing, reappearing. And there's more: Gregorian choir chants, samples and noises, and more of that disturbing, frenzy violin-rape towards the end, before concluding in a mixture of Harsh Noise and more spoken sampling.
Gingrina Tartari has a more ritualistic, experimental approach at first, with sampling and sounds, ethereal voices (both male and female), and deeply-captivating yet horrific 'melodies' (yeah, whatever). Here too the combination of synths, samples and distorted violins creates a bizarre universe of 'Diabolical Ritual Ambient'. This piece has something mesmerizing, even meditative, yet from a mostly capricious kind. The dual vocals and some flute-alike melody even add an atmosphere of ancient cult worship and devotion, almost introspective and divine. A moment of truth, the awareness of gods punishing the human kind for their disrespect…
With Elegia Pestilentiae, Corona Barathri delve deeper into semi-esoteric dimensions, with spooky, hypnotic keys and distant noises at the background. The track comes with conjuring vocals, which are done by no one else but Hekte Zaren (Adaestuo, Norrs, Hekte Zaren and many more). This vocal contribution, vibrant and vivacious, somehow reminds me of Aghast, for what it is worth. Elegia Pestilentiae is very bleak and whacky, floating and remote, and deeply intoxicates.
Spiratio Atra, Mortifero is even more 'divine' or 'devoted', with church bells and obtested female vocals at the opening frequency. These will return later during the closing episode. The track has an enormous malignant character, done by screeching noises, droning sounds and evil samples. This composition unleashes elements from Death Industrial and Power Electronics, subtly injected within this frenzy mass of darkened ambience. It is like an aural definition of a deserted, wasted, abandoned landscape after all (human) life was extinct, expelled, eliminated. Adorable (yeah, I mean it) is the cooperative influence of Louis Fleischauer of Aesthetical Meat Front, which somehow explains the harsh elementarism.
Corona Barathri's part ends with their 'shortest' piece (still clocking just over eight minutes), which is a Melek-Tha cover, Hymnus Mortuorum (and FYI: both Melek-Tha and Corona Barathri did collaborate before). More than before, a terrifying atmosphere gats created, like part of a soundtrack for some occult Horror movie. Sounds of thunder and rain, whispering voices, horrific choirs, oppressive drones and morbid soundwaves are gathered into an ominous, asphyxiating, even claustrophobic sonic story. Besides, the menacing organ and the female vocals, performed by no one else but Stupor Mentis' Erszebeth, make the whole experience even murkier and more lugubrious. Once again, that violin distortion towards the end strengthen the discomfort of Corona Barathri's ritual madness.
The other compositions are written and performed by Anthony Armageddon Destroyer aka Paranoia Inducta. Anthony started this solo-outfit in 2003, but it remained quite low-profile (sad, for this project deserves all support and attention). But maybe the collaboration on Atra Mors might put this name on the international map for sure. Paranoia Inducta's side consists of four titles that clock around seven minutes, each of them (6:40 to 7:30).
Signum Mali too starts with some crow or raven 'singing', while approaching a field of dead bodies, consumed by sickness. It's like a long-stretched dronescape, bleak, monotone and doomed in essence, desperate, desolate and post-apocalyptic in atmosphere. Slowly on, this piece of ultimately darkened Ambient grows and evolves, actually revealing a whole spectrum of melodies, rumbles and sounds.
With Dies Irae, this 'trend' continues, though there is more 'activity' going on. Dies Irae comes with more synth-levels and additional sounds / samples / field recordings. Besides, quite intriguing are the whispered voices, messengers of mortal things to come. In an overwhelming manner, the obscurity absorbs all mental tranquillity or conscious quiescence; on the contrary, it's a disturbing experience, but lovable for twisted ears.
Pestis Magna, the longest elegy from Paranoia Inducta on Atra Mors, discloses subtle hints of Death Industrial on top of haunting synthwaves. It is like a lament for our filthy existence, and all those subtly injected details invigorate that ponderous attitude, the quintessence of death and oblivion.
Peccationes Mundi, eventually, occludes with a finicking symbiosis of eerie, horrific waves of noise, mechanical samples (like metallic percussion) and spooky synths. Here too, the modest addition of vocal samples, sounding like dim and occult sermons, and diverse (bizarre) sounds and somehow Lovecraftian melodies (is that a cello toward the end?), are canalised into a suffocating aural spectacle.
Anyway, there were two limited compact disc editions, but I am afraid they have been sold out in the meantime, but there is a downloadable version too, evidently, via the Bandcamp pages of Corona Barathri and Speculum Diaboli Records. It is recommended by undersigned, believe me! May the Black Breath pass you by…
https://corona-barathri.bandcamp.com/album/atra-mors
https://speculumdiaboli.bandcamp.com/album/corona-barathri-paranoia-inducta-atra-mors-sdr002
https://www.concreteweb.be/reviews/corona-barathri-1
https://www.concreteweb.be/reviews/corona-barathri-melek-tha