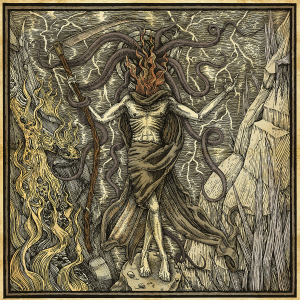 It would be a waste of time to spent my time and energy in writing a biography / discography about one of Portugal's best known and most notorious bands. Personally, I do follow Corpus Christii as from their debut Saeculum Domini, more than two decades ago (though, I admit that I do not have all of their releases in my collection (yet), apparently). And now they have returned with a ninth full-length album after signing to Immortal Frost Productions, a Flemish label with a limited yet enormously cool roster.
Alexandre 'Nocturnus Horrendus' Mota joined forces with João 'J. Goat' Duarte once again, which did result in The Bitter End Of Old, a nine-tracker that clocks about thirty-eight minutes. Immortal Frost Productions organized 1,000 copies on compact-disc, which do come with a twelve-page booklet, as well as three different vinyl-editions, which are much more limited, evidently. And at the same time, Larvae Records from this project's home-country took care of a tape-version too (three different versions), so this stuff is available on LP (12"), CD, MC and digitally; an option for all of us is foreseen.
This new recording opens with an acoustic introduction, called Amargura, which is Portuguese (and Spanish too, if you want to) for 'bitterness' or 'rancor'. It has a haunting atmosphere, with different layers of acoustic guitars, joined by additional sounds, percussions and samples. But as hypnotic as that intro is, as intense and merciless is what follows.
As from The Predominance, Corpus Christii bring timeless – or would I rather call it 'traditional'? – Black Metal with a prominent 'Second Wave' attitude. This goes in the first place for the rhythmic structures and melodic riffing. The latter, the melodies, are basically of the universal kind, balancing in between rocking / thrashing and post-laden, yet still recognizable and authentic. It comes in a fine-tuned balance with the technically well-elaborated rhythms, fortunately spiced by perspicacious breaks and dynamic changes in speed. That variety in texture and tempo feels natural, for it never loses itself in pathetic exaggeration. On the contrary; the well-balanced diversity still maintains a characteristic identity. There are some faster outbursts with chopping drum-patterns, there is a short yet weird, ominous intermezzo with grim narration, there are some slower excerpts, both rumbling and blasting percussion salvos, additional choir-like voices; and I am still talking about the first track.
And that is somewhat the core of each creation on The Bitter End Of Old. Morbid rhythms, additional acoustic fragments, grooving and even black'n'roll'y (!) riffs, Nordic-styled melodies, deep-throaty screams, epic and triumphant chapters, intolerant drum-parts, low-tuned bass-lines, and so on; the album contains everything to captivate, everything to convince, everything to astonish. And damn no, the album does not 'renew' at all, for it sticks to the initial craft. Do not expect to experience a renovative collection of blackened hymns. Yet then again, this trespasses the 'average' too, by that balance in between traditional song-writing and progressed techniques. It's rooted in essential tradition, yet executed on a next level of sonic recreation.
That too gets defined through the sleazy and rough-edged sound, which, then again, pays attention to the whole vocal / instrumental section. It's amazing how well-performed the basses sound like, for instance. The Bitter End Of Old was recorded over a period of half a year (April 2021 – October 2021) at the Generator Music Studio with Migual Marques (productions, mix, mastering), who is a long-time collaborator of Corpus Christii too. It does explain that incredible sound-quality, for all parties know what and where and how, you see. And all in a nutshell, it also explains the choice for the optical reference. The visuals have been done via the label's trustees of WrathDesign (layout) with artwork-duties by Opposition Artworks (both from Serbian soil, by the way). It's all well-thought, it's all discernible, that cohesion of all elements. Craftsmanship, professionalism and experience canalized into another recommendable result from Corpus Christii's psyche…
https://digital.immortalfrostproductions.com/album/the-bitter-end-of-old
https://immortalfrostproductions.us18.list-manage.com/track/click?u=6a037d1858abf1a86d0057099&id=47210864ea&e=b34ca1c71c