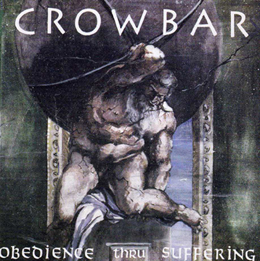 Release Date:
Monday, November 26, 2012
Crowbar are considered to be the real inventors of the 'doom-core' genre, combining the heaviness of doom metal and the breakdowns of hardcore. Their first release back in 1992, Obedience Thru Suffering, set the tone for a whole new range of bands to arise from the depths of metal and hardcore. The album was an inspiration for many people to pick up an instrument and start making heavy music without following any rules. The record has been out of print since 1994, but now, the band re-released their debut masterpiece.
Since the release of Obedience Thru Suffering, Kirk Windstein (also known from the New Orleans metal band Down) and his buddies have put out eight other studio albums, of which Sever The Wicked Hand was the last one.
Just shut your eyes and lock yourself up, because listening to this record might harm your environment.