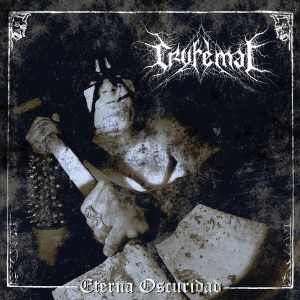 If you're known as Ebola, you are of no importance anymore since the latest form of corona-virus, SARS-CoV-2 (causing the covid-19 pandemic, for those who lived on another planetary system lately), sort of took over our Mater Terra. WTF is 'ebola' doing right now, since that new epidemic disease from the Far East conquers our planet???
Nope… Not if you are thé Ebola from Stormvold, Godüs, Muert or, last but not least, Cryfemal. Forget about any viral infection, and submit to a 2.0 edition of some Spanish pestilential plague, sweetly acting under the moniker of Cryfemal as from the end of last century.
Actually – but I will keep it brief – Cryfemal were formed under the Agaliareth moniker in 1996; and this at the tropical beaches of the Canary Islands (although, I do not think this project was born on those sunny beaches, yet rather in the darkest dungeon-like holes deep into the Canarian mountains). During the first decade of this millennium, Cryfemal were quite productive (as studio entity), but things turned into relative silence as from their 2011-album Malicioso Sonido Putrefacto. However, the band sort of 'returned' with a release on renowned Osmose Productions in 2016 (D6s6nti6rro), but once more they did fade away into silence.
But hey, never underestimate the glorious presence of Belgium's Immortal Frost Productions, for this label by Ars Veneficium frontman S. releases the newest – and maybe the most mature – full length by Spanish Cryfemal. This eighth (I think) album (compilations not included) was created (read: written and performed) once again by Ronald 'Ebola' Rodríguez, assisted once more by no one else but Bornyhake as session drummer (think: Enoid, Borgne, Kawir, My Death Belongs To You and many more). There are 1,000 copies on compact disc, and some cool versions on vinyl too (three different colors, including an A2-sized poster), besides the digital one, of course. The CD-edition comes with an eight-page booklet, while the vinyl editions are strictly limited to 100+ copies.
Anyway, with Eterna Oscuridad (meaning 'eternal darkness'), Cryfemal continues the filthy path beneath earthly soil, a stinking path leading to the abyss behind total obscurity (feeling poetic?). This project's Black Metal has always been putrefied and merciless, yet compared to the past, the melodic structures evolved into a rather complex yet minimal harshness, and the little epic approach became more and more degenerative and frenzy. The guitars (electric and basses) buzz and howl, with several layers on top of each other, and including a grooving and pounding touch of timelessness. That's a great element to notice; especially the fact that the bass lines, for example, are so prominently represented, is nothing but graceful. The fact too that the rawness of the past remains, even though the overall production is very decent, lifts the whole up to dimensions so fiery and inflammable, that it makes my nose hair start to curl spontaneously. A big hail goes, evidently, to the majestic drum parts, based on unstoppable rhythms, thunderous salvos, militant patterns and, at the same time, somehow an energetic melody as well. Okay, guest drummer Bornyhake is one of the most experienced skin-hitters for sure, but his assistance with Cryfemal is simply top-notch.
One of the main characteristics of this Spanish project is the voice of Ebola. He's screaming, puking out his lungs, spitting acid vomit and poisonous blood, barking like a rabid werewolf, preaching sadism, blasphemy, misanthropy and torture. Joy to the world… There is some raspy timbre, as if this guy's vocal chords were masochistically raped by a rusty barbwire.
I can't stop this review without mentioning the variation. The better part is based on malignant, speed-up and devastating sonic violence. That has always been the case, and it's nice to notice that Cryfemal did not give in (at all!). But once in a while (and that actually counts for the past as well), there is that something 'extra', that additional thing that makes the whole even more attractive. An example on Eterna Oscuridad are the compositions El Retorno ('the return') or Culto A La Muerte ('cult of the death'), which have some slower, more melodious fragments. The use of a couple of decelerated moments sounds all right, for it works well as a counterbalance to a predominantly extreme and vigorous attack on the listeners' eardrums. Extremely rare too, yet ear candy when used, are the few synths that emerge now and then (example: Lapida Condenada (= 'condemned tombstone')). Within each release, Cryfemal come with such ingeniously elaborated chapters, and this time is no exception either. Fine!
So, if you like it uncompromising, raw, unbending and unmerciful, somewhat thrashing and primal, and quite old styled in both execution and production (please do complete this sentence yourself…)…
https://digital.immortalfrostproductions.com/album/eterna-oscuridad
https://www.shop.immortalfrostproductions.com/product/cryfemal-eterna-oscuridad/
https://www.shop.immortalfrostproductions.com/product/cryfemal-eterna-oscuridad-half-transparent-blue-half-clear-with-transparent-blue-splatter-lp/
https://www.shop.immortalfrostproductions.com/product/cryfemal-eterna-oscuridad-lp/
https://www.shop.immortalfrostproductions.com/product/cryfemal-eterna-oscuridad-transparent-piss-yellow-lp/
http://smarturl.it/eternaoscuridad
https://www.facebook.com/cryfemal666
https://www.youtube.com/watch?v=8Nkjl6g6dxA