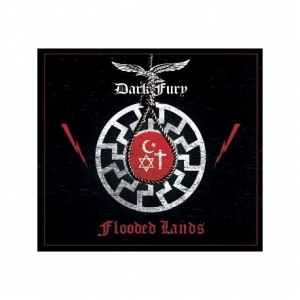 Ashes to ashes, dust to dust…
Hail! One of my most beloved acts from Polish soil has returned with Flooded Land, the first full-length album in three years (after 2016's This Story Happened Before). There were some splits in the meantime, so the band did not fade away, yet still it pleases my eardrums (and it satisfies my morbid mental state of hatred and misanthropy) when getting a new full album by this outfit of one K. He is the very same guy who also runs Lower Silesian Stronghold, an explicit yet enormously interesting label that focuses on Black Metal 'with a message' especially…
[PS: enter this band's name in the 'Search' tab to read several other reviews on Dark Fury; this band truly has a superb catalogue!; also, check out the label's highly interesting roster via this tab…]
Anyway, Flooded Lands is a new epos, written over a period (during long nights) in 2018 by frontman K., once again assisted by long-time collaborator Hetman Diathyrron on drums. It gets released on both tape and compact disc (in an edition of 1,000 copies!), the latter with an eight-page booklet with very, eh, beautiful - or is it explicit - black-and-white artwork. Flooded Lands consists of eight stories, having a total running time of (only) thirty-three minutes (way too short!).
What you can expect is not that different from the past – or in global lines I must say that Flooded Lands once again stands for a grim and epic Nordic styled form of melodious yet radical Black Metal. That's it. Have a great day…
No, seriously, those trusted with this project might have an idea what this album brings. It is a full, devastating, overwhelming package, heavy in performance, well-thought in construction and composition, and militant in atmosphere. All pieces are highly melodious, with the guitar lines acting like a basement. There is more than a sum of solos and leads, for the whole string section brings that melodic essence: lead and rhythm guitars and bass lines. Despite several layers of thunderous string force, the whole sounds organically natural and firm (also with gratitude to the sound quality – see later). Above some tremolo riffs, there are supportive bass lines (always a surplus throughout the years in Dark Fury's case!) and grandiose rhythm lines, yet even within the most subtle moments, the elegance of the melodies gives that epic and majestic attitude. K.'s vocals too are characteristic: dry and raspy, rough and deep, and still 'telling a story' instead of screaming out meaningless messages. Once in a while, he sort of experiments with his vocal timbre, yet the better part is so captivating. And damn yeah, this fits so well to the victorious elegance of the instrumental side.
But hey, let's not forget to add a word on session drummer Hetman Diathyrron, who did work with Dark Fury before (and FYI: both Hetman Diathyrron and K. did collaborate in other bands and projects before, which explains the symbiotic co-operation for sure). The guy is able to unleash blasting fury, to add modest gracefulness, or to create a whole dimension of dauntless spirit or martial pride when needed.
Throughout the whole album, there is one general concept, seen from aural point of view, yet the whole gets injected by subtle additions, like a couple of 'other' vocal ranges, the addition of synths, and the great diversification in tempo. But what strikes me most is the excellent sound quality. The production is of a very high level, lacking noises or other irritating background sounds. On top of it, the equilibrium in between every single element (instruments and vocals) is so well-balanced, putting every single detail on the foreground, always leaving room for that feeling of a 'total experience'. And still the whole comes with a grim and harsh rawness, an unpolished edge of anti-cleanliness.
For Honour and Blood, United & Proud!