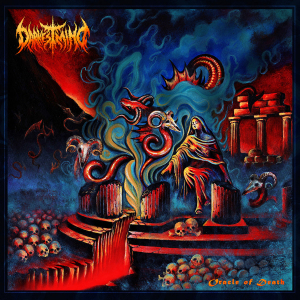 Release Date:
Friday, December 10, 2021
Despite having some Gotmoor members in its ranks, it would be too easy (and incorrect) to consider Darkest Mind as a side-project of aforementioned top-act. The story started in 2014 or so, when Yuri 'Y' started this outfit as a solo-expression of the ideas he had. Actually, he wasn't part of Gotmoor's line-up yet, back then, which proves my former statement (about the 'side-project'-thing). After having written some initial material, he joined forces with some other skilled musicians, which eventually resulted in the recording and release of the independently released Break The Circle EP. We're talking about the year 2015. The band started playing live too, though being limited in performances, and nothing new got released officially either.
Until now. After years of writing and rehearsing, Darkest Mind now, finally, comes up with their debut full-length album, called Oracle Of Death. Once more assisted by guitarist Glenn and drummer Hammerman (also part of the Gotmoor line-up), Yuri (also live session member for Ars Veneficium, the main band of Immortal Frost Productions' label owner S, by the way) recorded almost two hands full of (new) tracks, which eventually resulted in the album entitled as Oracle Of Death, as mentioned. It's a compact-disc edition (besides a digital one); no vinyl pressings have been made (maybe in the future?), with heroic fantasy-like cover artwork by the truly great (and notorious) Romanian visual artist Luciana Nedelea. She did, FYI, the artwork for 2015's EP Break The Circle too. Being Immortal Frost Productions aficionados, layout and design were done once more via WrathDesign (i.e. Marko Jerkovič).
Darkest Mind's debut album Oracle Of Death clocks three quarters of an hour and was mixed and mastered by no one else but Owe Inborr, who's not a stranger to Immortal Frost Productions at all (cf. many studio assistance he did for bands on this label, and being involved with bands that are part of this family's roster too, like Dispyt and Ondfødt). This was done, of course, at the famous Wolfthrone Studio in Finland. You just feel the Arctic-freezing cold crawling all over your skin…
With this album, Darkest Mind bring a recognizable form of timeless Black Metal with an approach that does remind of a lot of the Nineties scene from Sweden especially. This material is very melodious in execution, sort of carried by a basic package of six-string tradition. This goes for a fine balance of atmospheric tremolo leads, epic chords, and mesmerizing solo-work. That execution is very various in essence, with very interesting and diversified structures throughout the whole album. That variety goes much further, for it also goes for the other instrumentation (see next paragraph), as well as the speed. When referring to the latter, one cannot ignore the ingeniously worked-out interplay in between fast and slow pieces, with everything in between at the one hand, and both doomed decelerations as well as pyroclastic eruptions at the other hand. The better part indeed is energetic and mid- to up-tempo-oriented, yet the many changes in speed are well-balanced and deeply organically sounding; no fake gimmicks or would-be 'look how evil we are' attitude.
As said, the guitar-played melodies and creations are like the spine of the album, yet the strength couldn't exist without all other ingredients. Imagine a freshly prepared stew with highly qualitative beef. It wouldn't taste that great at all without the right seasoning, would it. Well, that's exactly the very same case right here. The fine guitar riffing, in general, gets convincingly supported – or is it: enriched – by all other instruments and voices. The main vocals, by the way, are harsh, rusty, even somewhat soar in timbre, and at least as deep, overpowering and monstrous. They are not that 'typifying' (high-pitched) blackened-screaming, yet rather deep-grunting and guttural. Very interesting, and at least as prominent as the string-work. Besides – and that's a rare surplus – the pronunciation (of the English lyrics) is very clearly understandable. Almost heraldic, one can easily follow the poetic messages of Death and Blasphemy (PS: ingeniously written lyrics, in case you might care).
The rhythm section, i.e. rhythm and bass guitars and drums / percussions, are of undeniable importance. The hammer(man)ing drum patterns are truly devastating, and perfectly chosen in intensity or, then again, integrity, when needed. Sometimes they strengthen the epic atmosphere, then again these salvos rumble and destroy in a lightning-fast manner. The additional string section too enriches the sonic adventure with a rich representation. Grooving bass-lines and heavily-supportive rhythm guitars accompany the whole experience with conviction and craftsmanship.
But it goes even further. A collection of well-executed instruments (vocals included) is one thing, but when the production fails, this collaboration will fail too. Not here, not now. Okay, Owe Inborr was the (human) being behind the knobs in the studio, so that might explain a lot. But the incredibly fabulous balance behind this album's mix is of a top-level for sure.
What else can I say. Okay, you will hear an acoustic intermezzo, as if it is an obligation to do so. But it does fit. And you will experience the essential darkness of the Second Wave with a contemporary touch, yet once again, it works without losing itself into superficiality. Okay, it might be lacking originality, but who cares about being innovative if the final result is of such magisterial level. Indeed, you get me.
So, I guess this stuff might be adored by everyone who can appreciate the likes of, let's say, Naglfar, Dawn, Mörk Gryning, Vinterland, Grief Of Emerald (without the symphonic elements), Dissection, Sacramentum, you know... Melody and power, epicism and persuasion, tradition and complexity, it's all represented under the flag of the oracle, the Oracle Of Death…
https://smarturl.it/Oracleofdeath
https://www.immortalfrostproductions.com/releases/darkest-mind/darkest-mind-oracle-of-death-cd-digital/
https://www.youtube.com/watch?v=thcapPPVUa8
https://nedelealuciana753.wixsite.com/luciana-nedelea-art