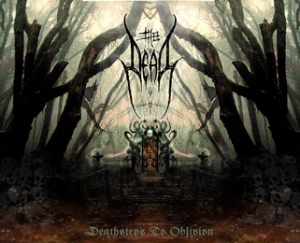 Release Date:
Friday, November 14, 2014
I thought The Dead were dead. We haven't experienced anything anymore since 2009, but this Australian trio finally return with their third full length (after 2007's self-titled debut, and the 2009-album Ritual Executions). Singer (well, what's in a name, for 'singing' is a relative notation) Mike Yee, drummer Chris Morse and bass / guitar player Adam Keleher (who also produced, engineered, mixed and mastered this stuff) signed to India's Transcending Obscurity-label, which is run nowadays by Kunal Choksi, at this moment one of Mater Terra's greatest minds for the promotion of Extreme Metal.
Deathsteps To Oblivion seems not to have aged, excepted for the increased coherence of the song structures. Still this band performs a weird, dissonant mixture of melodic yet cryptal Old School-oriented Doom-Death Metal (and then I am referring to the very ooold skool) and hazy, murky and bleak-blackened Sludge, penetrated by Post-Rock / Post-Metal alike intermezzos. There is quite a dose of ferocious psychotropy and schizophrenic psychopathy, and especially through majestic hymns like Disturbing the Dead the listener cannot but get aurally horny, reaching utter ear-pleasure. On top of it, The Dead inject their songs with distinctive elements, such as tribal percussion, female voices, blackened spheres, hypnotic tremelodies (inventive it is, not?!) etc., yet in each case it does fit to the final result.
I will keep it short. Coffins, Father Befouled, Incantation, Portal, Ævangelist, Acid Witch, Asphyx, The Ruins Of Beverast and Gorguts-fans, this is your thing. Five times six to seven minutes of morbid, grim, suffocative and sludgy Death Metal from another dimension, there is no-one who can resist this.