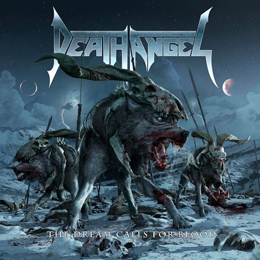 Album Title:
The Dream Calls For Blood
Death Angel has come to be known as one of the most influential bands to emerge from the thriving Bay Area Thrash Metal Scene in the early 1980s. Initially active from 1982 to 1991 and again since 2001. Death Angel has released seven studio albums, two demo tapes, one box set and two live records.
So for those who never heard of them, this is a very good and experienced trash metal band, that wrote a few trashterpiece albums. Now the band is back with their latest record entitled: "The Dream Calls For Blood", witch came out during the beginning of October. The band used its winning formula once again on this one. The formula is rather simple but o so effective. Fast riffs, shredding solos and memorable melodies. So rest assure, you are set with an awesome record if you get this one.