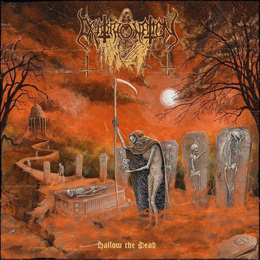 Release Date:
Friday, September 26, 2014
When Eyehate, Stiff Old and Goathammer started playing together in 2004 (actually it was in an old bunker), they decided to continue as a 'real' band instead of just some time-passing activities. Goathammer, however, was forced to leave, and S. Muerte and Randy Rots joined the duo. At that time, it was time to choose a name. Deathronation were born. Some of the tracks the band wrote were collected on the demo A Soil Forsaken, and Deathronation could play live with bands like Pentacle, Warhammer, Necros Christos, Nocturnal Breed and Dead Congregation, to name but a few. Unfortunately thing didn't go the way the members thought, and all of them left, leaving Stiff Old as sole remaining founding member. In 2009 Deathronation officially split up.
But of course… Stiff Old joined forces once again with Goathammer and S. Muerte, and Deathronation, also including new member Mr. Freeze, were reborn. Finally, in 2011, the band released a second demo, Exorchrism, and gigs followed, with notorious acts like Funeral Whore, Sadistic Intent or Chapel Of Disease a. o. They did a small tour as well with Degial and Obliteration, and they were able to perform as well on the PartySan festival (2013).
This year the band will celebrate the tenth anniversary of their official start. The band finally finished their debut full length, and after signing to German label Ván Records, this will be released as present for their birthday. It consists of both old and new material, clocking just over forty minutes, and strengthening what the band did in the past. Hallow The Dead is an Old School monument with international allures. With this I mean that the band did not limit them to an interpretation of the German scene only. No, the technical performance breathes the primal essence of trans-European Death Metal, while the structures and intensity bring the North-American school to mind as well.
The technical side is not of the exaggerated, progressive kind. It goes well with the melodic riffs and variety in tempo (going from majestically slowly, including hints of Doom-Death, to energetically up-tempo). There's a specific morbid and dark atmosphere, mainly caused by the nice melodies (I adore the haunting, mystical intermezzo in Spiritual Relief, for example), and the band inject the stuff with elements from Thrash Metal too (listen, for example, to the lead solos or the sudden accelerations…).
This sh*t will surely do if you appreciate everything in between, let's say, Asphyx, Decrepit, Sadistic Intent, Morgoth, Graveyard, Dead Congregation, Carnage and the likes.