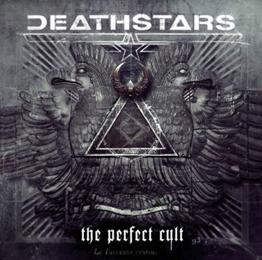 After a long five years of waiting 'Deathstars' have risen from their graves with a new record called: 'The Perfect Cult' witch was released on (surprise, surprise…) Friday the 13th. It's a solid 'deathglam' album wich stays in line of their previous work.
With 'Bone W. Machine' and 'Cat Casino' having left in between the two releases, I was eager to see how 'Deathstars' music has changed in the interim, with the short answer being that it has barely changed at all. The strongest point is the beautiful and varied keyboards of Nightmare Industries. Horror Soundtracks (like 'Ghost Reviver' and 'Asphalt Wings'), rousing melodies (in 'Fire Galore' and 'The Perfect Cult') and atmospheric passages are well varied. ('Track, Crush & Prevail'). The pace is somewhat lower compared to the other work they brought out. The first half of the tracks contains some faster and lighter material like the melodic, danceable 'Fire Galore' and 'All The Devil's Toys'. Here you can hear some influences from the eighties. Then the songs are a bit darker and more epic such as 'Asphalt Wings' and 'electronic Bodies'.
Overall, 'The Perfect Cult' does not represent anything completely new or innovative, but then again, why should it? 'Deathstars' have clearly stuck with their proven formula for writing tracks. I find it difficult to assign this album a rating; on the one hand, critics will claim that "The Perfect Cult" is a pure recycling effort of all of Deathstars' previous melodies, whilst fans will likely claim that the band has distilled their unique sound, and that "The Perfect Cult" is the follow-up to "Night Electric Night".
It's probably great for their current fans that they brought out a new record, but I'm going to listen to it two or three times more and then it will disappear in my collection never to be heard again I guess.