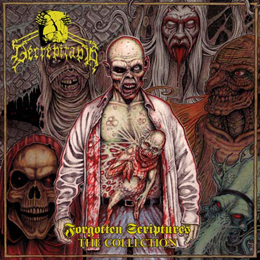 Album Title:
Forgotten Scriptures (The Collection)
Release Date:
Monday, September 10, 2012
American act Decrepitaph, consisting of two highly experienced musicians (Elektrokutioner and Sinworm), are known for numerous releases. Many of them were released as part of a split-EP, often on vinyl edition only. Therefore any compact disk-possessor and Gore / Death lover cannot but growl out loud: aaaaaarghhhh!
Forgotten Scriptures (The Collection), indeed, is a compilation with material taken from several splits the duo did in the past, including a couple of previously unreleased songs too.
Those who are trusted with Decrepitaph's (the band did release three studio recordings as well in mean time, besides the many split-efforts) tunes will not be surprised, but in case you might not know them (yet): beware! Decrepitaph plays the kind of slow-paced, down-tuned and gore-horrific Death Metal that was rather 'popular' in Sweden, Holland and the U.S. two decades ago (and still it is, for sure). It's the nastiness one might love-to-afterlife once (or still) done by bands like Derketa, Asphyx, Carnage, Grave, Rottrevore, Morgoth or Autopsy.
Ungodly divine!