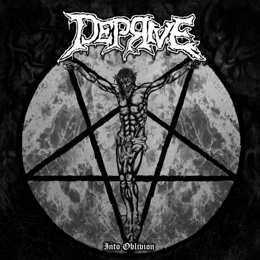 Release Date:
Wednesday, April 29, 2015
One of the most active guys from the Extreme Metal scene from Spain must be a guy who goes under many nicknames, amongst which Erun Dagoth. Bands and projects he is, or was, involved with, are part of a long list, but just for fun I will add some interesting names that might ring a bell: Omendark, Stormstone (watch out for the upcoming review on Heirs Of All Fights in a couple of days / weeks / centuries), Hrizg, Ancienthorn, Neverendinghate, Briargh and many, many more. I am quite a 'fan' of most blackened projects he's involved with, but with Deprive, a solo-outfit he started with in 2013, Erun Dagoth goes back to the roots of the glorious Death Metal days of Old.
In 2013, Deprive recorded a demonstrational recording, De Vermis Mysteriis, and shortly after Erun Dagoth started writing on the first full length. He did record (production, mix and mastering included) everything himself, and now Memento Mori did release that new stuff with the 2013-demo as bonus. Now bow your head and pay eternal gratitude to this label!
Anyway, Inner Oblivion is quite an impressive album. The material pays tribute to the roots of the Death Metal scene, the glorious Eighties, when Germany, Sweden, Holland, the U.S., Greece, Italy and Botswana (and some other countries) were paving the paths to dimensions of timeless morbidity. There are so many influences, elements from all over the globe, and I do not exaggerate if I mention Nihilist, Incantation, Abhorrence, Paradise Lost, Asphyx, Cemetery, early Darkthrone (up to Soulside Journey), My Dying Bride, Bolt Thrower or Desultory. With Deprive, Erun Dagoth easily knows how to combine all these elements, and give it his own twist. Okay, it still does not sound renewing at all, but it does refresh, if only for the superior quality of the song writing and the performance. When it comes to the sound I am not that enthusiastic at all, nor totally disappointed. The production quality is rough-edged and unpolished, and that's the way it needs to be. But I think, in all modesty, that it could have been finalised little 'denser', for the mix sometimes lacks of equilibrium in between all instruments involved.
I think there are many positive aspects, which can all be canalised into definitions of supremacy, craftsmanship, persuasion and professionalism. Erun Dagoth for sure is an extremely experienced personality, but that does not necessarily mean that any new project would follow his glorious destination. In this case, however, there is nothing but positivism to add, maybe with exception of that sound quality I mentioned in the former paragraph. But that isn't but some nitpicking, as a matter of fact.
Finally this: the album comes with the De Vermis Mysteriis demo as bonus. It truly is a great gift, for it consists of different songs in comparison to the album (no demonstrational pre-versions for the studio album), and they too show a project with pride, persuasion and honesty. Conclusion: once again Memento Mori surprise, once again Erun Dagoth surprises, once again I am surprised!