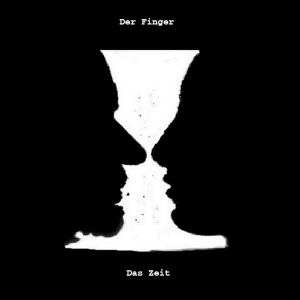 Release Date:
Saturday, September 25, 2021
Das Zeit was originally released in 2018, so this review deals with a re-issue of an older recording. But both the kind Gates Of Hypnos chief P. Sadox and undersigned (it is I; almost as kind as Mister Sadox) agreed to promote the reissue; the first one via the digital re-release, the other one (it's me again) via writing down and publishing my ideas, also known as 'a review'.
So, Das Zeit was originally recorded by Anton Efimov and Evgenia Sivkova after some intensive recording sessions in the Sanchillo Vintage Recordings Studio, dedicated to the memory of one of Mater Terra's greatest minds ever, Stephen Hawking. The thought experiment is proposed: take the box, the walls of which were formed from the horizons of the events of the Black Holes at the moment A; then take the other box, which was formed at the moment of B, and place there the rabbit. Now, the box B put in the box A. In this case, the rabbit is in two moments (A and B) at the same time. Does it sound logic? It does, as does Der Finger's sonic translation of these philosophical / theoretical statement.
This Russian duo once again focused on some in-depth representation of, in this case, themes of quantum physics and theories about time and space, and relativity of these so-called logical concepts. The result created by Anton (strings, samples, programming and kalimba [*]) and Evgenia (voices, samples and (alto) sax) is born out of improvisation and creativity. Das Zeit consists of four lengthy compositions, having a total running time of forty-five minutes. This re-issue is a digital one, available via the Bandcamp-pages of both the project and the label involved. And it comes with cool artwork that gets often used as case within psychological tests and experiments.
([*] a 'kalimba' or 'mbira' is a small instrument, sometimes named as 'thumb-piano', mostly made from a wooden basement with metallic 'snares', played / plucked with the fingers (thumbs especially), within the group of 'idiophones', finding its sound sources in vibrations, and initially originating from Africa)
Das Zeit (German for 'the time') consists of four lengthy lullabies, having a total running Zeit of forty-five minutes. All of them are quite different, yet with a comparative inner relationship. And with one specific detail that characterises all of them: frenzy madness! The opener, also the title track (clocking almost eleven minutes) is based on a range of dark-droning strings as spine, injected by different percussions from several undefinable sources. Quite soon, distorted saxophones join – not purely (or solely) of the Zorn-known kind (though, still…), yet at least as bizarre and disturbing. These saxes do add a dimension of transcendental mesmerism and meditation at the one hand, and an asphyxiating wave of confusion and discomfort at the other. It wouldn't be that strange to refer to the hazy ideas once revealed via Badalamenti / Lynch efforts. A surplus is that those saxophones do not oppress the synth programming and guitar / bass drones, for the latter do carry the whole too towards levels of overwhelming weight.
With its length of more than fifteen minutes, Äther ('ether') is the longest piece out of four. It's the most improvisational and experimental 'song', an Electroacoustic Avantgarde Progressive Experimental thing, constructed (or destructed?) via a wide range of percussions, sampling, kalimba and noises from different sources. The kalimba sort of creates a ritualistic atmosphere, going incredibly well with the disturbed and haywire sonic derangement. Schizophrenia and lunacy go hand in hand with marvel and sensation, and even the jazzy percussions do lift the whole up to dimensions of creativity and, at the same time, mental alienation. Towards the end, things grow bleaker, more venomous, with devilized background elements (voices or well-thought sources that do sound alike?).
Entropie ('entropy') (11:39) once again spins around low-tuned electric strings, joined by eerie, little howling voices, somehow invocative in essence. The spacy effects and sonic manipulations ask endurance and persuasion, but it's satisfying somehow to plunge into this muddy pond of aural discordance. Here too, unearthly and trans-dimensional ideas get gathered into a nebula of psychotropic and intoxicated experimentation.
With the shorter (seven minutes and a handful of seconds) title Chrononenfluss (which can be translated as 'flow of chronons'), Der Finger seems to create a symbiosis of all former pieces. Chrononenfluss is an overwhelming effort, an amalgam of fierce and pounding Jazz-laden percussions, grooving guitar drones, eccentric hooks and weird breaks, psychedelic structures and subtly used additions from different sources and origins. Yet despite this semi-chaotic approach, it withholds a fine-tuned and well-balanced nature, gloomy yet reliable, unconventional and idiosyncratic yet, at the same time, at ease too. And not at all either, haha…
As much as the duality of the concept (the relativity of place / space and time – see above), so dual and contrarian is Der Finger's sonic effort called Das Zeit. You'll adore it or you do not at all, but that's something you will find out after a couple of carefully concentrated listens.
https://gatesofhypnos.bandcamp.com/album/das-zeit
https://derfinger.bandcamp.com/album/das-zeit
PS: strength and loving support to Przemysław!!!