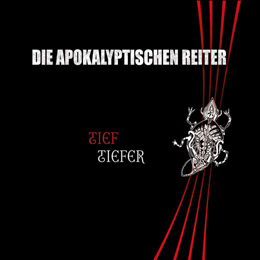 Although my last encounter with this exhilarating multi-influenced German Metal act is still fresh in my mind as one of the most exciting events of that time, it turns out that that goes back to my review (posted 19/09/2006, and still consult-able in our "Archive" section) of the band's 6th album Riders On The Storm, which was the first recording by the band to get into the top 40 of the German album charts.
Since then, the Teutonic trüppe went through a couple of minor line-up changes (original guitarist Pitrone leaving in 2008, to be temporarily replaced by a lady guitarist by the name of Lady Cat-Man during the rest of that year and part of the following, before the position was taken by current guitarist Adrian "Ady" Vogel) and went on to release the 2008 studio album Licht (went to position #29 in the German album charts; from it the 2008 EP Der Weg was culled) and the live albums Tobsucht (2008; released as double CD and DVD) and Adrenalin (Sept. 2009; released only? as DVD?)...which went by at the ConcreteWeb headquarters unnoticed. The ensuing studio album, Moral & Wahnsinn (the band's most popular album so far, entering the charts at #18 in Germany, doing also better in the charts elsewhere) then, was reviewed by colleague Erik (posted 03/04/2011, find it in our "Archive" section), whom for some reason felt compelled to compare the band with Rammstein's!
DAR's latest offering is a two-disc album which finds the band as strong as ever on the 11-track (and 38,5-minute long) Tief, while also showing its "softer" side on the 9-track (36:30 in length) second disc, Tiefer. Indeed, whereas on that first album one will find the band in it's more exuberant and electrified modus, you'll find that on the second one they've done things mostly acoustically! An exception comes during ""Flieg mein Herz", in which indeed some guitar comes electrified. Don't go thinking that second disc to be a lame affair, though. Because through the addition of horns (as during "Friede sei mit dir", a song which in its original form goes back to 2006...which justifyingly makes me wonder whether the other songs on this second disc may possibly be more acoustic versions of older songs, right? Sorry if I didn't take the opportunity to check, I still have no Internet connection at home) and strings ("Den Leidenschaft", "Auf die Liebe") the band incorporates a couple of more energized passages. Tensions can also be brought in another way though, as proven by the real awkward vocal stylings (a darkened spoken word) of "Der Wahnsinn"...a song which also seems to have a small passage with with Ennio Morricone-styled guitar toward the track's end...which also goes (along with a tiny spoken word passage) seamlessly into the ensuing disc/album-closer "Terra Nola" (more spoken word of the same time also comes in a further passage of the song, creating the idea that the two songs may have a common thread, for sure).
For your introductory listening session of the album, check the homepage of the band's own (http://) tieftiefer.reitermania.de (that is, if you're not connected to Spotify, who most probably carry the album in its completeness? By the way, at the band's facebook page (www.) facebook.com/Reitermania, you're offered the possibility to download a previously unreleased song (entitled "Das Spieszerlein") for free! All ya gotta do is "like" their page! End conclusions. I'm absolutely baffled by the Tief part of this album, and I would definitely catapult it into my "best Albums Of 2014"-lists, if it wasn't for the fact that it's also connected to Tiefer, which I find to be a little less exhilarating! The end result, therefore, is a modest...