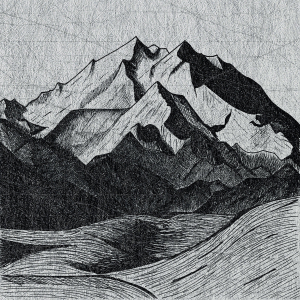 Eugen Kohl is a very active and productive musician from Germany. The guy has several (solo) outfits, such as Necrochaos (brutal and intense old schooled Death Metal), Death Carrier (massive Sludge / Doom / Drone), Sinister Downfall (heavy atmospheric Funeral Doom), Hexengrab (hateful Second Wave-styled Black Metal), Urschmerz (Ambient / Dungeon Synth / Winter Synth-injected Depressive Black Metal), Crypt Witch (psychotropic Stoner-injected Ultra Doom Metal) or Nihilisticon (which is not a one-man army, but a real 'band', performing timeless and melodic Atmospheric Black Metal), amongst many others.
Another project courtesy of Eugen, aka Gnev, is Donarhall. This Lower-Saxonian based one was formed in 2016 and is responsible for more than one hand full of recordings over a period of just three years. Amongst them, some fine full-length studio albums and two splits (one with Vihan Messu from Finland, one with Greece's Adventum Diaboli).
During 2019, Eugen 'Gnev' recorded his fifth full length studio album under the Donarhall banner, which was (and still is, of course) called Helvegr. Eugen did everything himself (song writing, recording, production), and the result got released in a partnership of Black Metal Propaganda Deutschland and Symbol Of Domination Productions for both digital and compact disc format. The latter comes in a normal 'jewel case' with a four-page booklet. The latter is extremely sober, with almost no additional information (no lyrics, but this is an instrumental band, you see…), with a four-page booklet in sober black-and-white artwork (cover + inner sleeve, just like the inlay and the disc itself).
Helvegr, the first release after September 2018's Arousal, consists of eight instrumental epics, clocking forty-seven minutes (Arousal consisted of exceptionally lengthy compositions, in comparison to all former material). It is like a huge symphony, a majestic orchestration of Dark Aural art. Donarhall are a non-vocal, instrumental project, created out of the ashes of the most sulphurous blackened remains of bleakness. But hey, pay attention, for vocals are totally otiose right here.
Seriously, I love many (most) kind of blackened vocals: from high-pitched screams over diabolical voices to grimly wretched grunts and guttural choking blast-the-lung-out-of-the-body shit. But somehow this project simply surprises, and convinces, even though it is totally instrumental.
Donarhall brings enormously energetic and fast blackened Metal (pieces like the intro, for example, are totally different with their bombastic and doomed character), based on the mighty interplay of the hypnotic twin / tremolo leading riffs at the one hand, and a monstrous, barbaric rhythm section at the other.
Fine elements are the sound and the use of acoustic excerpts. When referring to the latter, well, these acoustic intermezzi (intros or passages in between) are wonderful, for they do add that semi-emotional greatness of epic and victorious conviction. It goes extremely well with the war-mongering passages; and especially some slower excerpts do exhale that glorious, warlike attitude. I also mentioned the sound, and I am truly obsessed by this unique mixture of atmospheric roughness in production, and the professional mix and mastering. Lacking vocals, this purely instrumental experience could have turned into a guitar-only journey, ignoring every detail that lies behind to support the bigger picture. But in Donarhall's case, the whole instrumentation convinced like a huge organism of darkened Aural Art. Whenever you're experiencing rather melancholic parts, blasting and erupting pieces, or epic-heroic passages; the well-thought equilibrium of all instruments does lift the whole up to areas of magnificence and glory.
What follows here is nothing but a personal opinion. I like Black Metal. I love Black Metal. I breathe Black Metal as from the Eighties. And Black Metal usually implies 'screams' from whatever kind. Most instrumental efforts I experienced, well, they could not convince me at all. Donarhall, however, are an exception, because for some reason, Eugen is able to create something that exceeds 'words' to express its message. I wouldn't mind hearing some grim voices actually, yet then again I do not miss them either. Donarhall are able to tell their story without the use of words, and that's a unique thing (and not many instrumental bands / projects are able to do this very same good shitty thing!). Cool! And hey, there are voices – not expressing words, not telling a story with full-linguistic sentences or conceptual content, but used and performed as an atmospheric instrument somehow (listen for example to Vagr to understand what I mean – a truly magisterial piece with some overwhelming acoustic excerpts, a monumental rhythm section and intriguing leads).
Purely informative, but a couple of months after the official release of this album, Repose Records did release a tape edition too, though this one being strictly limited to an edition of only fifty copies…
https://symbolofdomination.bandcamp.com/album/sodp119-donarhall-helvegr-2019
http://satanath.com/sodp/item/sodp119.html
https://donarhall.bandcamp.com/album/helvegr