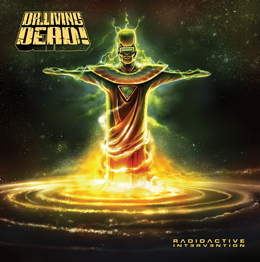 Release Date:
Thursday, August 30, 2012
Dr. Living Dead were a part of a metal family, they'd be the child of Anthrax and Suicidal Tendencies, and the brothers of Gama Bomb and Lich King. I say this because the first bands I mentioned seem to be their direct influence from old school thrash metal. And the other two are the bands the perfectly fit in from the modern thrash metal scene.
Their debut was a blast from start to end. Just like that album we get more of the same on Radioactive Intervention. From the opening track "Radioactive Intervention" you feel their anger just like in the old school Slayer-days. Vocalist Dr. Ape has the same two vocal styles that he always uses, his main vocals sounding like Joey Belladonna (Anthrax) and his other sounding like Mike Muir (Suicidal Tendencies).
Fans of old school thrash don't hesitate! This is something for you!