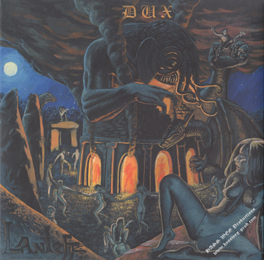 One year after the excellent Vintras-album (released through Hass Weg Productions), the sweet quartet of DUX release a gatefold 7"EP via Asgard Hass (hey, they have something with 'hass'… And yes, their aural creations too breathe the magnificence of total hatred!
The artwork is fabulous, though the front cover drawing is little suggestive and not meant for the eyes of your children, nor your grandmother. But the pure essence reminds me to what we got twenty years ago – no compromises!
Anyway, Lanleff was recorded at Studio du Lac in Nantua, France, close to the Swiss border. The band and Asgard Hass took care of the production; mix and mastering were done by Scott Burne. Once again, the lyrics (like the music they were written by Glaurung Samildanac'h) are in their mother tongue, both the current form as an ancient, local tongue (at least, that's what I think; check the sub-title on the first track and you'll understand what makes me confused right here). And for your info, the band states this: 'you can easily understand what DUX is about while reading or listening to the lyrics. If you don't speak French, learn it!' Voilà, vous avez été averti maintenant, n'est-pas?
Side A comes with Les Cercles De Lanleff (E Trouz An Noz Lodenn 2), which goes on in the vein of Vintras. This material is raw, rawer, rawst, breathing the essence of no-nonsense Black Metal. Of course the sound is lo-fi and grim, but there is no other way to express this kind of grimness, as you do know. Dux stand miles away from following trends and without being another Second Wave-entity, they are old styled and primitive through their nihilistic approach. They are rather part of the First Wave, but nevertheless they do sound just like, well, let's mention Venom, Bathory or Possessed a. o. Anyway, it's obscure, intense and powerful in every single definition.
Side B opens with Black Metal Is Dead (hey, that does not sound French…); despite the English title, the lyrics are in French, evidently, but believe me if I say that the clownesque evolution of our beloved scene gets ridiculed. It's really fun to read stuff like 'défilé des gros bâtards, qui veulent devenir des stars' or 'les <artistes> n'ont rien à dire, les <musiciens> font les méchants, ces connards me  ont bien rire, ce ne sont que des enfants'… Well, in some cases I too must agree: le Black Metal est mort!
Second piece on the B-side is an instrumental interpretation of Eternité. Still intense, it's less violent than Black Metal Is Dead.
Recommandé si tu aimes ton métal noir like Hell…