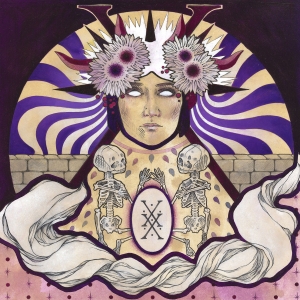 Release Date:
Tuesday, November 20, 2018
Of Wolves And Men is the first official full length (aka EP, but the album lasts for more than thirty-five minutes, so it is not exactly an EP – yet that's a discussion not of importance right here, right now) by DXVXDXD SXLF. The band's name in fact comes from The Divided Self: An Existential Study In Sanity And Madness, one of the earliest works by British author / psychiatrist / philosopher R.D. Laing. This band, hailing from the ancient yet quite beautiful French city of Clermont-Ferrand (in the centre of the country), was formed in 2016 by Adam DSX and Guillaume Smiley, and the duo was joined shortly afterwards by Ludy Wotton and Alec Hourvari.
The eight-track album Of Wolves And Men, which comes with quite specific cover artwork, consists of four 'normal' tracks, and four unplugged ones. Since my promotional copy does not include those unplugged tracks, I will not go too deep into that matter. I have been listening to them on the band's Bandcamp-page, and I could recommend you to do the same, if interested. You have to like it, or you do not…
The first four compositions are another story. The band describes their approach as a mixture of, and hold your breath: 'from Deftones to Dimmu Borgir, from The Cure to IAMX' (indeed), while the Dooweet promo-sheet speaks about 'Alternative Goth Metal […] between Paradise Lost, Mastodon, Pain and Megadeth'. Well, I do not agree, actually, but it does surely refer to the wide range of musical styles and influences brought by these Frenchmen. And 'Alternative Goth Metal', well, that's quite fitting, to my opinion.
DXVXDXD SXLF's material mixes elements from Alternative Rock, Gothic Metal, Dark Metal, Progressive, Metalcore and Emo / Screamo, including quite some poppy hints. At the same time, the four tracks are catchy / catching, as well as energetic and dynamic. The whole is strongly guitar-based, with lots of (sometimes intriguing) leads (staccato / tremolo / dual) and solos. This gets supported by a powerful rhythm section, and because of a very professional production, the rhythm instruments are not just 'something additional' at the background. No, on the contrary, despite the head-role for guitar-laden grandeur, all other instrumental ingredients are equally represented. The synth parts, by the way, give the whole, when put on the foreground, a symphonic touch of bombast. It is not exactly orchestral, yet at least it strengthens the dramatic atmosphere of most parts. And the few acoustic excerpts provide a touch of integrity and tranquillity.
The main vocals are melodic, little sore, and it might be a turn-off, especially within the more emotional parts. But a surplus is that there are some nastier injections too, i.e. a couple of deep-grunting screams. The advantage is that it is part of the variation, which characterises this band for sure.
Of Wolves And Men turns out to be a catchy, even poppy Alternative Rock / Metal album, which is not a recording that reinvents the scene, yet at the other hand with an own face, an own approach.