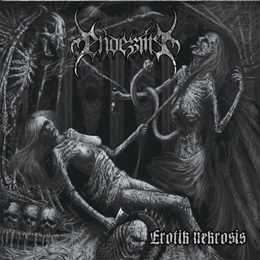 Release Date:
Friday, November 30, 2012
Endezzma were originally formed by Morten Shax in 1992 as Dim Nagel (also in Bloodsworn). After a long-time hiatus, he decided to reform the band almost seven years ago, with Tomas 'Trondr Nefas' Torgersbraten in the ranks. Tomas T. is (or better: was) especially known from notorious acts like Urgehal, Kvist, Vulture Lord, Asmegin, Beastcraft, Angst Sqvadron, Styggdom, Svartekunst or In Lingua Mortua (and probably I might forget a couple of bands / projects I'm not aware of right now), but he passed away last year (05/12/12), so this release might be considered some tribute to this multi-talented musician for sure. In 2007, Dim Nagel's moniker had been adapted into the current one, Endezzma.
Erotik Nekrosis was recorded at the Oslo-based Slaughterhaus Studio and lasts for forty minutes. It brings a primal form of Thrash / Black / Death Metal with a 'fist in the face of (some monotheistic) god'-attitude, mixing Old School with a present vision on Dark Art. It's like some mixture of earlier Darkthrone and Celtic Frost with (more than just) some doomish additions, a couple of eerie keyboard lines, Aura Noir'ish Thrash'n'Roll-elements, some subtle futuristic injections, a distant Post-sound, a couple of epic passages (Norway, you see) and lots of barbaric and beasty Punk-riffs, which do even breathe the essence of early Amebix.
The whole concept of Death (with honour to Trondr Nefas, of course) is as refreshing as it is primal / primitive and it does grab you whole the time. The album is somewhat uncomfortable in its core, but any intoxicated and/or foul mind will not dislike such indecent nekrotik erotik.