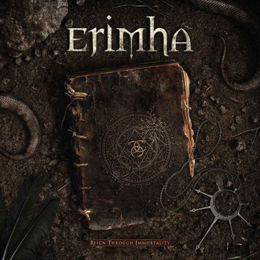 Album Title:
Reign Through Immortality
With the signing of the Canadian Erimha, Victory Records has proven once again that they aren't narrow-minded at all. We know the label of hardcore, punk, screamo and emo bands, but Reign Through Immortality, is a real metal record that stands somewhere between black metal and death metal. The most remarkable thing about it is its production. For a new band, every detail sounds crystal clear, lifting the album to a higher level.
Erimha stands for 'army' in Sumerian culture and it is in that same culture that they found their inspiration for Reign Through Immortality. The entire record sounds very majestic, enforced by the orchestra and the choir. Just give songs such as Bewildering Nightmare and Condemned To Isolation a listen. You would nearly believe that the apocalypse is nigh.
Fans of Behemoth and Kataklysm should definitely give Erimha a listen, as they might be the most important aspiration of the year in the blackened death metal world.