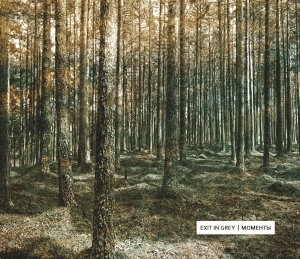 Exactly two years after the grandiose recording One Lumen In The Past (http://www.concreteweb.be/reviews/exit-grey), Exit In Grey come up with моменты (read: 'momenty'), getting released once more via Moscow-based Frozen Light. I would like to refer to that review when interested in the history of Exit In Grey (or that specific album; why shouldn't you anyway?). Like the former album, this one comes in a very beautiful package, being a digipack in a larger format (digifile), hand-numbered and including fine photography. The release is limited to 300 copies, so take this as a warning.
This album, translated as 'moments', consists of one very long piece (52:31!), which actually is an organic symbiosis of two live-recorded excerpts, done on two festivals in respectively 2017 (Notmusic - Itisnothere) and 2014 (Drëma VI). Моменты starts quite integer, relaxed and tranquil. Frontman [S] (aka Sergey Sukhokiv) brings a dreamlike, bewitching Drone section, created by (prepared?) guitar. Despite a specific long-form approach, sort of monotone and long-stretched, you might notice a permanent evolution. Slowly on, this sonic event progresses, weaving beautiful yet dense, heavy layers of sound. The grievous and little woeful mood in combination with the semi-meditative atmosphere is, in an organic way, adventuresome and inspirational. The constant evolution in tone-setting and sphere creates that attraction, and it won't let you go, it won't let you lose your attention. It will open your vision and let you trespass a mysterious world of transcendentalism and inner equilibrium. Almost cinematic in nature, this enigmatic soundscape canalises the opposites of the endlessness of space with the arduous quest for introspection.
The second chapter is, despite a more desolate mood, more abstruse and, at the same time, melancholic and floaty. It brings a deep, almost provocative and claustrophobic ambience. There is another richness of sounds and aural layers, and it feels like the elements of Mother Nature have penetrated the essence. I do feel a soft breeze caressing my skin. Here too, the sustained evolution, sometimes expanding yet then again returning into an embryonic state, gives the listening experience that mesmerizing grandeur. There are many delicate, exciting details to uncover, subtle yet ingenious elements to encounter.
Моменты is another magic listening experience, which confuses my emotional state of mind and pleases my search for aural satisfaction. Recommended, highly recommended…