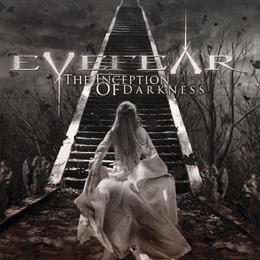 Album Title:
The Inception Of Darkness
Release Date:
Saturday, December 7, 2013
Line-up: Danny Cecati: Vocals, Con Papazoglou: Guitar, Zain Kimmie: Drums, Seb Schneider: Keyboard, Evan Harris: Bass
'Eyefear's'  'The Inception of Darkness' is a fairly standard Progressive Metal album, full of keyboards and intricate song structures. The vocals are mainly clean but sometimes vocalist 'Danny Cecati' puts in a growling voice to strengthen his lyrics. The only downside is that the vocals are a bit too loud in relation to the rest.The songs that stand out the most are the opener of the album 'Redemption' and 'Immortals'. The album left me with mixed feelings, the production is superb, the music is accessible, it's mainly a good album but it just doesn't stick.