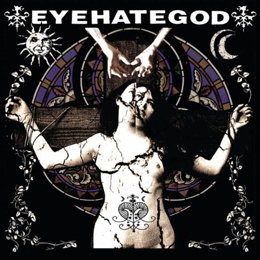 Good creeps...finally I come across this legendary band again! You know, I remember having heard this band's fourth full-length album Confederacy Of Ruined Lives (2000) at a friend's place, somewhere at around the time I got involved in this website, actually, and having been blown away with the band's wacky mixture of Black Sabbath tonality and Post-Hardcore styled vocals. The band's originator and only remaining original member, guitarist Jimmy Bower, once described the band's music as 'Black Sabbath with Blag Flag with a little bit of Skynyrd & the element of Blues thrown in there', and I guess that description suits the band quite well!
Mind you, these days such a description would be rather commonplace, but back when the New Orleans based band was founded, in 1988, the style was quite unique. Since then, the band has cited bands such as Melvins, Carnivore, The Obsessed, Discharge, Black Flag, Corrosion Of Conformity, Celtic Frost, Confessor, St. Vitus, and of course Black Sabbath as influences and inspirations for their music! During the first years of its existence, the band wet through a couple of line-up changes, and later found some trouble holding onto its bassists, but with Bower as the mainstay since the beginning, and Mike Williams (singer) and Joe LaCaze (drums) joining in 1989, the core of the band became stable in 1993 when second guitarist Brian Patton (of Soylent Green) entered the fold. Current bassist Gary Mader then brought final stability to the line-up when he was recruited in 2001. The last line-up change came in 2013, when LaCaze died of respiratory failure. He's since been replaced by Aaron Hill (also of Missing Monuments and Mountains Of Wizard).
If, seeing the lifetime this band already has, not so many albums were released over the years, it needs to be known that there's been some hiatuses in the band's career, during which the members occupied themselves with several side-projects (more about that later on), and the more active days of Eyehategod must be looked for in the band's first decade of existence. Indeed, following the release of two demos (1989's Garden Dwarf Woman Driver and 1990's Lack Of Almost Everything), of which the latter was sent out to labels, the band signed onto the small French label Intellectual Convulsion, who released the band's debut album In The Name Of Suffering in Dec. 1992. Recorded very cheaply, and with band members lacking today's experiences, the album's sound was far rawer and more primitive, and even with a more Hardcore-driven tonality, than what the band would release later...and with the label goin' belly-up after releasing only the first two runs of 1,000 copies, the band had to go look for another label. Which they found inn the then still young Century Media, who started its collaboration with the band by re-releasing In The Name Of Suffering as it is known today (for the detail buffs among you: in 2006 the album was re-issued again, with four bonus tracks). 1993 saw the release of sophomore album Take As Needed For Pain, with a sound far closer to what the band had intended, cleaner and with defined riffs, and showing off the Southern Rock, Blues, and Doom influences more clearly as well. Extensive touring followed with such bands as Chaos UK, Buzzov*en, White Zombie, and Corrosion Of Conformity.
After the touring cycle, the band members wandered apart for a while, each spending time on individual projects. Bowen played drums (!) on Crowbar's Broken Glass as well as Down's debut album, NOLA; Patton recorded Soylent Green's debut album Pussysoul; Williams busied himself contributing to the Metal Maniacs magazine...but the band would reconvene to record several demos, which were released on several labels (the vinyl 3-track EP Ruptured Heart Theory was released through Bovins Records in 1994, year during which Ax/tion also issued Whore, a split 7-inch (one track each) with 13; during 1995 Bovine released Loud & Ugly Vol.2, a split with Floor, Despise You (who had 2 tracks), Apartment 213, and Thug...and the infamous Slap A Ham Records issued a new split with 13, this time coupling the song "Whore" with "Discomfort".
In late 1995 however, the band got its shit back together, and sat down to write and record (with Pepper Keenan of Corrosion Of Conformity as producer) Dopesick , released through Century Media in March 1996. recording sessions were infamously chaotic, and included the studio owner threatening to throw the band out of his place (more details on that can be found on the band's Wikipedia page, from whence the bulk of this very article was synthesized and re-written). In early 1997, the band went on a US tour with White Zombie and Pantera, which not only spread the band's music to a wider audience, but also got it recognition as one of the founding bands of the Sludge Metal sound. Meanwhile, rumours/ stories of the band members' occasionally erratic behaviour were seeping through the grapevine, bringing the band a different sort of reputation.
Following the extensive US tour, some controversy had arisen between the band members, and they decided to take a hiatus, each spending time with their individual other projects, namely Soylent Green, Corrosion Of Conformity, and Crowbar. A split release with Anal Cunt (whom were great friends with the band) featuring two medley jams of Black Sabbath covers, nevertheless made it onto Hydra Head's 1997 In These Black Days Vol. 1, the label's very first installment of tributes to BS.
In late 1999, the band members got together again to compile their various demos, singles and split recordings into one compilation album entitled Southern Discomfort, which was released through Century Media late in January 2000. the guys subsequently went into a new writing session, and recorded their 4th studio album Confederacy Of Ruined Lives. Released in October that same year, the album was swiftly followed by the live recording 10 Years Of Abuse (And Still Broke) in July 2001...the release of the latter concluding the bands' ties with their label. It let the band free to record and release stuff for split releases and such again through several smaller labels...but in the meantime the individual members also still spent time with their own projects: Down recorded its second album, and Bower started the mostly instrumental band The Mystick Krewe Of Clearlight (to which LaCaze also contributed); Soylent Green released its 3rd album; Williams founded Outlaw Order (with LaCaze and former EHG guitarist/ bassist Mark Schulz, as well as Patton and Mder) and Arson Anthem. In the couple of years that followed, EHG first released a 2-track split with Soylent Green (2002) through Incision Records, and in 2004 unleashed the 3-track EP 99 Miles Of Bad Road (on 2+2=5 Records), their very first live video Live In Tokyo 2002 (via Press Pauze Media), and the 2-track split I Am The Gestapo/ Self-Zeroing with Cripple Bastards (through Southern Lords Recordings). The band eventually signed onto the Emetic Records imprint, to release their 2005 compilation album Preaching The "End Time" Message, which included previously unreleased studio tracks.
Following the onslaught of Hurricane Katrina, Williams and his then girlfriend Alicia Morgan (of Sludge band 13) were arrested in Morgan City, Louisiana on narcotic charges. During his 91 days in the city's jail, he kicked his heroin addiction. He was released from jail on Dec. 2005 thanks to the help of his EHG bandmates and supporters such as Phil Anselmo (whom already had a good contact with the band, having occasionally played extra guitar on the band's shows). The following year, the band played at the Mardi Gras festival, the first after the passage of Katrina. Meanwhile, Emetic, high on the success of the 2005 compilation album, had contacted several artists to contribute a cover song to the EHG tribute album For the Sick, which they released in March 2008. That same year, on August 29, the band celebrated its 20th anniversary with a show in New Orleans. In May 2009 then, the band plays a couple of shows in the American South, and later that year they were out on an extensive tour (which included a performance at France's Hellfest in June).
Whatever the band did next, I have no idea, the info missing. In an interview Bower however announced that the band was still active, and were actually preparing a new album. EHG played a few scarce festivals: April 2010's Inferno in Oslo, that same year's Roadburn, and performed a new song entitled "New Orleans Is the New Vietnam" during their Roskilde Festival in July 2011. March 2011 also saw the band releasing its second video Live through MVD Audio. Joe LaCaze died on August 23, 2013, having just returned from a European tour and celebrated his 42 anniversary. His replacement was announced a full two months later.
Which brings us full circle, and back to the band's musical output. Now...rather than go into the sound again, I guess you'd better LISTEN to it. The band has pages on MySpace, Last.fm, Twitter, and other media, but to hear some of its music, you'd best surf to their own (www.) eyehategod.ee ("Media" section holds several live videos and interviews), and the "Music" section at (www.) facebook.comOfficialEyeHateGod will re-direct you to the new album's BandCamp page. If that don't work for you, you could always go listen to the 30-second samples usually provided by such trusted online sales sites as Amazon and iTunes. End of the line, EHG is probably best enjoyable on vinyl...which is just my luck, as Eyehategod is actually also available in that format! Gotta have Baby! This, of course, is "Best Albums Of 2014-lists material!