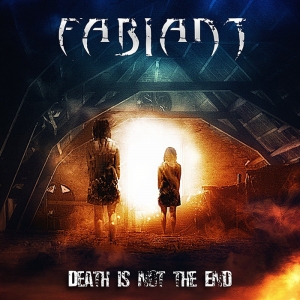 Fabiant are a band from Belarus, which were formed almost a decade ago. However, despite ten years of existence, they didn't release but two recordings in mean time: Life Despite Nothing, a mini-CD which was self-released in 2010, and Death Is Not The End, their full length debut that sees the light via Ukrainian Wolfshade Records.
This debut album was recorded in the band's hometown (Gomel), at the 3DR Studio with Artur Georgadze taking care of mix and mastering (Artur Dze Project Studio) in 2014. The material was written over a period of several years, and the result lasts for fifty five minutes (nine titles).
Fabiant perform a quite 'traditional' form of Gothic / Doom / Death Metal. All known clichés are part of the result, but this time it's not irritating, seen the strong quality of both song writing and performance. The songs are very melodious and, indeed, quite slow in tempo. However, despite the un-fast speed, there is quite some energy for sure. Especially the convincing rhythm section causes that arousal of power; once again it lacks of originality, but it does not bore or bother. The band somehow adds many faster excerpts too, which do sound convincing and honest – not just like some annoying 'needful' gimmick. The whole gets injected by quite some elements from Traditional (Heavy) Metal, especially riff-wise, and even some Thrash-elements. Also the acoustic or semi-acoustic parts deserve (full) attention, and so are the few Epic-styled parts. That's all right in this case, because it does not sound forced at all; on the contrary. The vocals are dual: there are the somewhat classically skilled (yet not operatic) female voices at the one hand, and the little 'common' grunts with some blackened hints. Especially these ones, the grunts, are very convincing; the female vocals, to my opinion, aren't that persuasive, unfortunately. The more 'blackened' voice comes to its peak especially in the very long epic Onward!, a composition that is as diverse as it is hymnic.
Fans of traditional and no-nonsense Gothic / Doom-Death / Epic Melodic Metal, pay attention and give this band / album a try!