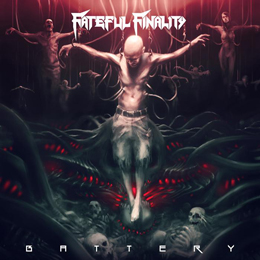 The stylistic direction of their music is unmistakable, but their great autonomy and compositional intelligence are amazing for a band this young : their second album "Battery" proves impressively that the Southern German thrashmetal act Fateful Finality has rightly come to enjoy a reputation as one of Germany's most hopeful new metal proponents. The winner of the Wacken Metal Battle Germany 2012 have made the most of that window of opportunity and, three years after their debut King Of Torture, present themselves as an even more mature fourpiece. Not only have the eleven songs on their latest album turned out to be considerably tougher and more uncompromising than their predecessors, they are also more diverse and profound.
One of the attributes which makes them stand out is their use of a twin vocal srategy. They have one growling vocalist and one dong what they call clean vocals. (The clean vocals are pretty raw)
You would expect a band on a well known label like this to be tight and together but the songs all have a fully formed feeling. The riffs are great and they add some nice lead guitar lines, all the appropriate double bass drum power and those varied vocals some genuinely impressive metal. From somewhere in the middle of the album and towards the end there are even some more hardcore influences, that are completely made evident on songs like "Under Pressure" and "Suck Me Dry".
"Battery" became a solid modern thrash metal album, a must for the real fans.