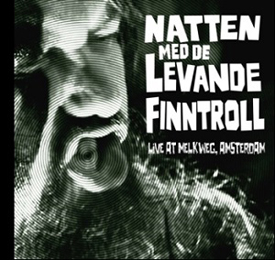 Album Title:
Natten Med De Levande Finntroll (Live At Melkweg, Amsterdam)
Finntroll must be one of the most unique bands ever. They formed about seventeen years ago and surprised our globe with a mostly amusing mix of Folk / Humppa and Death / Black Metal. Humppa is a Suomi-based variant on the better known Polka Music, for your information (but most amongst you do know that for sure). Their albums, and there are several of them done during the past one-and-a-half decade, were very successful, and the band was able to visit almost the whole planet to perform live on stage. And when it comes to the latter, it comes to this review as well.
On September 20th 2008, Finntroll played live on stage at the well-known Amsterdam-based Melkweg. That (legendary?) performance has been registered and gets now released with the working title Natten Med De Levande Finntroll (which means something like 'a night with the living Finntroll'). It's an eighty-minute party in front of a demented audience. You hear the crowd whole the time, but it does certainly not incommode. Therefor the final production is way too good. Really, the sound of this live registration is exceptionally great. It breathes the rough purity of a live happening, but the details that might bother are mixed away. Okay, a purist might think it is not 'honest' anymore, but I do not think it loses any of its final impact; on the contrary. When it comes to the performance itself, and that's the essence of this release, of course: superb! The craftsmanship of the experienced members is quasi faultless. I think there might have been some corrections in the studio afterwards, but the global idea is that this horde is capable to handle their instruments.
I am not going to sum up every track performed at this live gig, but it includes stuff from the earliest years up till the moment of touring, and of course anthems like Trollhammarren, Jaktens Tid, Nedgång, Segersång or En Mäktig Här do not lack.
Those who were there that memorable evening will be thrilled to notice this stuff is finally available, but I guess every Finntroll-fan will adore this first official live-album. I am not that much 'into' Finntroll's 'happy' stuff, but I can't ignore the greatness of this performance.