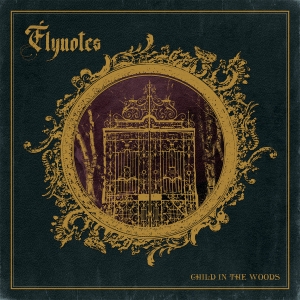 Flynotes are a band from Saint Petersburg, Russia, which was formed in 2010. In 2011, they released a first full-length studio album, Our Zoo, followed in 2013 by a second self-released album, called Shiva Telescopes. After some silence, the band returned in 2016 with a digital EP, The Smell Of Space, and very recently, with a renewed line-up, Flynotes release Child In The Woods, once again independently released. However, it gets distributed professionally via GrimmDistribution, a label owned by Aleksey 'Satanath' Korolyov, who comes from the very same city as the band Flynotes, Saint Petersburg.
Original member Roman Komarov (guitars and keyboards) and newly recruited members Natalia 'Natasha' Bogulyan (drums) and Ilia Rytov (bass) did record this new material in early 2018 at the 2S Studio (in their home city) and some other locations, and it gets released on CD (sober yet attractive digipack) and digitally. Child In The Woods clocks forty minutes and was mastered in Sweden (Elementstudio).
What the trio brings is an instrumental mixture of different yet closely related styles and sub-genres, such as Doom Metal, Stoner, Psychedelic, Post Rock and Progressive. The material is guitar-based in the first place, done by extremely heavy electric guitar riffs and monumental leads. But there are many avant-garde guitar and progressive melodies involved too. At least as frenzy and psychedelic are the few (weird) keyboards experiments, which show the eccentric character of this band. The melodies are supported by a truly fantastic rhythm section, which includes pushing and pounding rhythm guitars, almost hypnotic bass lines and monumental drum patterns. It's a rich palette, from Diagonal and Ozric Tentacles, over Craang or Yurei, to Hawkwind and Hidria Spacefolk, if you want to. It comes with an extremely interesting production, for this is quite clean, perfectly mixed, yet ultimately heavy in result. The mix is simply top-notch, and therefor every single instrument plays a heading role, even though the basics are guitar-oriented in the first place.
I admit that I usually do not like this kind of Rock / Metal, but there have been some exceptions in the past. And to be honest, most bands I summed up in my former paragraph, well, aren't they representative for one of the most complex and complicated musical genres? Well, Flynotes can now, without fear or remorse, enter that glorious list of eccentric bands and projects, for they are just superb within their specific style.