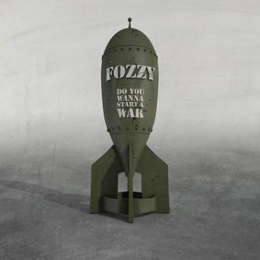 Line up :
Chris Jericho – vocals
Rich Ward - guitars, vocals
Frank Fontsere - drums
Billy Grey - guitars
Paul Di Leo - bass
"Fozzy" the American band made up of former members of "Stuck Mojo" and headed by "WWE Wrestling legend Chris Jericho".  Latest album "Do You Wanna Start A War" is album number six from the band and may just be the album which will break them through that air of arrogance that too many rock fans seem to have about the band.
Title track "Do You Wanna Start A War" opens the album strong with a sound not dis-similar to that of an air raid siren and an electro/ guitar heavy riff that stomps. This song has grooves and in Jericho they actually have a singer with serious talent. "Lights Go Out" is nothing short of a beast of a track, huge main riff and one hell of a catchy chorus that settles the band somewhere in between "Ozzy Osbourne's" 80's solo releases and "Velvet Revolver".
With "Died With You" the band show there is more than just heavy rock as "Fozzy" enter the world of the rock ballad.  "Tonight" is much more like it, this is a party, beers in the air, classic rock type of an anthem. Cheesy as hell but at the same time awesome, arena rock fun.
"Brides Of Fire" takes you back to riff heavy metal that shows how good the musicians in this band are. Drummer "Frank Fontsere" kills it on this track with blast beats galore and at no point losing the groove. "One Crazed Anarchist" brings in an almost industrial vibe as it opens that makes way back into classic rock with a touch of "Rob Zombie". The dual vocals on "Unstoppable" make it a stand out track. "Scarecrow" although starting with a sombre tone soon turns it up and shows that "Fozzy" really do know how to write an anthemic chorus.
The real curve ball on this album comes with the track "SOS". It starts and you think you know this from somewhere and then the chorus hits and yes, you're right! This is an "ABBA" cover and by god it is fabulous! The piano of the original is here but the chorus, oh that chorus! the camp is turned up to 11 and as I said before, this is just fabulous!!!! Please listen to this cover!
"Witchery" closes the album as it started, big, dirty and heavy and some filthy, filthy bass lines.
All in all this is a very good album and there is a lot in here for people into most types of alternative music to really enjoy. No doubt the bands most commercial release to date and in no way is that a bad thing. This band show they are no gimmick band and deserve a hell of a lot of respect for this record. Also, once more, please go check out that "Abba" cover, you will not be disappointed.