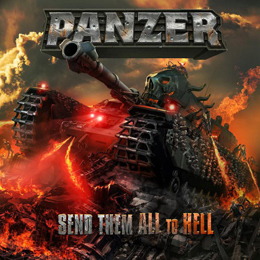 Release Date:
Friday, November 28, 2014
So you play in a famous German metal band but you feel bored between tours and recording new albums. Some people take up golf or another hobby but drummer Stefan Scwarzmann (Accept) takes his phone and calls around to see if he can find some colleagues to jam with. Vocalist / Bassist Schmier (Destruction) guitarist Herman Frank (Accept / Victory) were all in for some fun and so The German Panzer was born. Three seasoned German musicians and a name like The German Panzer give you enough clues about what kind of music these gentlemen play. Teutonic metal at it's best.
The album takes a blistering start with Death Knell, five minutes filled with sledgehammer blows. In a take no prisoner's mode the band delivers one assault after another.  Another highlight is the track Panzer; a pummeling mid-tempo vehicle with blistering guitar licks. Freakshow is pretty much the most speedy song on the album and stands out for the blitz guitar firework The slow plotting track Why brings a band that sounds menacing, foreboding and plain evil.
This band certainly did not re-invented metal but they delivering a heavy metal album that sounds like Teutonic metal should sound like.