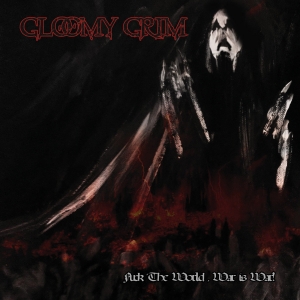 Album Title:
Fuck The World, War Is War!
Finnish horde Gloomy Grim were formed in 1995 by Juha 'Agathon' Hintikka, who was in bands like Airdash and Corporal Punishment back then, and known for his membership (little later) in known acts like Thy Serpent, Walhalla and Soulgrind (of which he is still a member, like some other former or current Thy Serpent and Gloomy Grim members). After two demos (I will come back to them immediately), Gloomy Grim had a first studio album in 1998, Blood, Monsters, Darkness (via the resurrected French label Holy Records), followed by several others up to the year 2008. Then silence took over, and this band's presence faded away into oblivion. But they returned, and in June 2016 mankind could meet their newest epic, The Age Of Aquarius, via Russia's finest Satanath Records (and with shame I have to admit that I did not publish a review for that recording…). Anyway, Symbol Of Domination Productions, the successful side-label of Satanath Records, now comes up with a compilation, released in cooperation, once again, with Italian label Murdher Records. You can buy the digital format via the Bandcamp page, evidently, or you might search for the CD-edition (originally pressed in 500 copies), which comes with a twelve-page booklet.
Fuck The World, War Is War! compiles both demos I referred to in the former paragraph. Partly it's a strange thing, for this material had been compiled before, released in Autumn 1998 via their label back then, Holy Records, under the Reborn Through Hate working title (note: that compilation did include a couple of tracks from the band's debut album as well). But no matter, those who do not have that original collective work yet, must pay attention. Oh yes, just for your information: both demonstrational recordings were (like some 'professional' stuff afterwards) recorded at the MD Studios (in Helsinki) by (legendary?) Kai 'Hiili' Hiilesmaa, known for his assistance as producer / engineer / mixer for bands like Apocalyptica, Swallow The Sun, Moonspell, Amorphis, Theatre Of Tragedy or Ensiferum.
Both demos appear in chronological order on this compilation. The first tracks are taken from the self-released Fuck The World, Kill The Jehova! demo-tape in 1996, the other ones from 1997's Friendship Is Friendship, War Is War! (also independently released on cassette back then). And as you can hear, Gloomy Grim already did have a unique sound in their earliest years. Like it is now, they did create a strange form of occult and mysterious Dark / Black Metal with quite some Ritual Ambient elements. Rhythmic and heavy Black Metal parts interfere with mystic keyboard-driven passages, electronic elements and much more. At that time, there were few comparable acts, like Daemonium / Akhenaton and Profanum (though the latter did not use guitars anymore as from their second album), and even Shadowcaster (though as well without bass or electric guitars), Valar, Chiva and the likes went a same-minded direction. But Gloomy Grim somehow brought this stuff to a bigger audience without turning it into some cheap and commercial pathetic would-be stage.
Anyway, I won't go too deep into the matter, but I assure you that, in case you do adore this Finland-based project, then you will be pleased in a satisfying way with these old recordings – that's a promise.