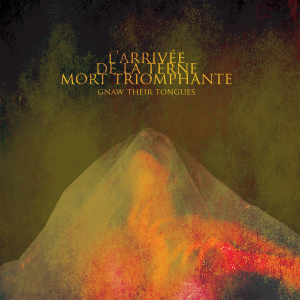 Album Title:
L'Arrivée de la Terne Mort Triomphante
Release Date:
Wednesday, January 15, 2020
[actually, this album was released ten years ago; below you will find my review I wrote for this unique masterpiece back then; I did not change anything at all to keep the flame that was burning in me at that glorious - and satisfying - moment. Consider this renewed upload of that original review as a sign of respect for such grandiose recording]
Dutch multi-instrumentalist Maurice aka Mories aka 'm' is a very active person since the beginning of Extreme and Obscure Music. He's been involved with numerous bands and projects within the Industrial / Death / Black / … Metal scene, especially as sole member (Astral, Ophiuchus, Atrocious, the great De Magia Veterum etc). One of his youngest solo-creations, Gnaw Their Tongues, was formed in 2005, and in spite of the little years of existence, Gnaw Their Tongues did release a huge amount of material: four full lengths, some compilations, and lots of mini-albums, splits, demo tapes and EP's. And through major Candlelight Records, the newest Gnaw Their Tongues-full length (44:44) is a fact.
L'Arrivée de la Terne Mort Triomphante might be one of the most oppressing, grim, suffocating, horrific and cold releases this year. It is the ultimate soundtrack for Darkness and Evil, the most misanthropic and funereal sonic nightmare. The overpowering (!) and apocalyptic-orchestral album combines elements from some of the most grim and lunatic music(k)al styles around, like ambient Industrial, nihilistic and misanthropic Black Metal, chaotic Noise, hateful Funeral Doom and sinister, ominous Drone – yet of the most asphyxiating, suicidal kind. The five individual creations on this album last between seven and twelve minutes and vary a lot. One moment, my mind goes to Cold Meat Industry-signed projects like In Slaughter Natives, MZ.412, Desiderii Marginis or Coph Nia, or entities within the same spheres (Archon Satani, Swartalf, Melek-Tha). Then again noisy Black-Funeral acts in the vein of Urna, Abstract Spirit, Alpha Drone or Xaos Oblivion come to mind. Sometimes it reminds me to the post-cosmic madness of Vonn, Aborym and (earlier) Diabolicum; even Abruptum and (recent) Sunn O))) cross my thoughts, a few parts exhale the long-gone yet not-forgotten mechanics of early Godflesh, Scorn or Pitch Shifter, and imagine the late eighties-early nineties era of Laibach, spiced with John Zorn and Beherit?...! Indeed, quite a list with comparisons, yet in Gnaw Their Tongues' case it stands for an own interpretation of all these raisons d'être (got it?), without an uninspired copy-attitude. L'Arrivée … is a most unusual and uncomfortable yet unique mixture of all these psychotics, poisoning humanity with bleakness and sarcasm. Oh so beautiful…
A monumental pitch-black soundtrack for the ultimate salvation: Death! …the most torturous way…