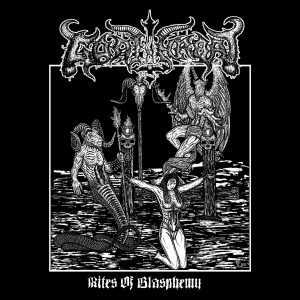 Goatthroat are a very young yet, at the same time, experienced trio from Germany, with members from Old Skull and As Light Becomes Shadow. After having joined forces in 2014, the members soon recorded ten pieces of purest Evilness and Grimness, gathered under the banner of Rites Of Blasphemy. And for sure these 'songs' are rites of blasphemy. The material and the artwork do fit (look at the cover painting and you'll understand), and so do the sound and atmosphere.
After a short yet ominous evocation, Goatthroat perform a mostly evil, filthy, grinding, necrotic, morbid and ugly form of Black Metal, somewhat mechanical in sound, and enormously primal and minimally / nihilistically old styled in execution. It results in a like-it-or-not opinion, with both possible extremes definable.
Cons might be the dense, mechanical and forced sound quality, the lack of variation, the use of both throaty screams and deadly grind-grunts, or the primitive song writing.
Pros, at the other hand, could be the revival of the minimal Old School, the purity of the grimness / evilness / darkness / filthiness, and the extremely misty, horrific atmosphere.
Guess what: I am going for the happy, positive side of the whole experience J (smiley indeed!) (what else should you expect?). I do really think the primal, primitive and, at the same time, ultimately rusty and grouse sound + approach are a surplus, for this specific execution is way too rare lately. It reeks of the glorious First Wave current from Brazil, Finland, Greece, Germany and Holland, and since I do adore that specific smell… J (damn, did I add a smiley once again???)…