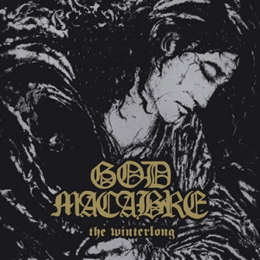 I guess it is because of their reformation last year, but in any way Swedish band God Macabre decided to re-release their sole official recording, The Winterlong, which dates from 1993. Before reviewing this masterpiece, first a short history of the band.
God Macabre were formed at the end of the eighties as Macabre End (known from the splendid EP Consumed By Darkness, which was engineered by Tomas Skogsberg, back then one of the world's most notorious producers within the international Death Metal scene) out of the ashes of the short-lived act Botten På Burken. As God Macabre, they didn't exist that long at all, but in their short live (they split up in 1992) they recorded one full length, The Winterlong, in December 1991, (once again) at the famous Sunlight Studio (Entombed, Thyrfing, Grave, Desultory, Necrophobic and tens of others), evidently with Tomas Skogsberg at the helm. In between the split (or the actual release, a couple of months after the split), and the band's reformation, there were some re-issues, like via Relapse and Blood Harvest, and via some unofficial bootlegged canals as well. And this new re-edition, once again via Relapse, is not that different from the 2002-re-release (which also included the Macabre End-EP as bonus, just like this one), except for one thing: the inclusion of a previously unreleased track (Life's Verge) on the vinyl re-edition.
Despite being a band from the South-West of Sweden, and despite having worked with Mister Skogsberg, God Macabre do not sound like an average, evident band that would reveal its roots in its sound. There is for sure a 'typical Swedish sound' and a 'typical Swedish performance', but unlike most bands from that dimension, God Macabre sound more, much more 'trans-European', if this might be accepted as definition (and if not: I do so, for I am in charge right now). Even their audible sound is not of the purest Sunlight-kind. It can be both a blessing and a curse. A blessing it is, for this band being not 'another' act from the very same offspring. A curse it might be for God Macabre might miss the boost once started with acts like [a couple of thousands to mention, so I will not…].                       
The only issue I had with this album, and which I still have, is the lack of variation. The drum patterns, for example, all sound too alike; and even the differentiation in between the songs is too limited. Okay, in the 'general' Sunlight-trend there is not that much 'own-identification' either, nor an overload on diverse angles in speed, melody, structure or atmosphere; but I think this might be a shame for God Macabre could have signified something more special. Unfortunately they did not (or at least, not completely).
Then, when it comes to the band's Macabre End-period, I am much more convinced. Consumed By Darkness was one of those EP's I adored passionately, and still now (can you imagine; I hadn't heard it anymore since two decades) I can enjoy this magisterial stuff; but wouldn't you?
And the new track, Life's verge; well, if this is an omen for the new album to come (later this year?), then I will already start to be impatient. Why? Because this is a killer track. Listen and agree! Because of the addition of the Macabre End-EP and the previously unreleased track, I will raise my initial score for the God Macabre-album with a couple of points.