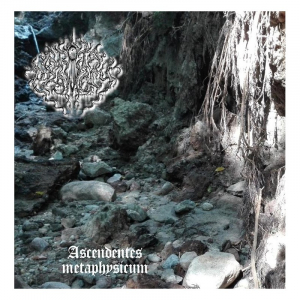 Release Date:
Wednesday, April 21, 2021
A totally new entity from Polish soil came my way very recently. When I noticed that this release was a mutual effort of that new act in collaboration with Lower Silesian Stronghold, it did trigger my attention even more.
If I am not mistaken, Grota Pramocy can be considered a side-project of Cursed Coven, even though the approach might be quite nastier. The band did record this first album, called Ascendentes Metaphysicum, in early 2020 especially, in the line-up of Prabyt (vocals), Xahvortis (guitars) and Abaddon (bass; recorded later) – to be honest, I do not know who did the drum parts (Dezinkarnat joined the mob, but I do not know whether he was involved with this album's recording; in case it might interest you). And for your (futile) information: Nuclear Thorn / Misterium Nocy / Leszy / Lek … member Vargnatt did assist in two tracks, by the way.
The project joined forces with Lower Silesian Stronghold, resulting in both a digital release, as well as a physical one. The latter is a jewel-case compact disc with a sober booklet, which does include nothing else but one lyric (plus translation) and fine visual artwork. It was printed in an edition of 500 copies.
Ascendentes Metaphysicum consists of nine tracks (Polish-texted yet with the titles in both Polish and English, at least on my copy) and clocks more than forty minutes. And praise the Horned One, for this debut totally overwhelms with passion and pride.
Actually, this recording brings forth a very morbid, intoxicating, captivating and lugubrious form of Black Metal with a funereal, sludgy and doomed attitude. In a claustrophobic way, the tempo leaves you suffocated, gasping for air, for the speed is deeply down-tuned, slowed and sluggish. Seen the melodious structure of the tracks, this slow tempo drenches the whole in an asphyxiating smog, like a  post-nuclear landscape where no life dwells but the miscreants of animal inferiority, crawling in poisonous dust. The speed indeed balances in between doomy and mid-tempo, with an accidental up-tempo acceleration once in a while. In combination with the dense, low-profiled production, the result is both sordid and abject; somehow appetizing too!
The better part of this material is melodic in essence, though, it is not focusing on fiery melodies or high-tech structures. The whole is rather dissonant in execution, with a rhythmic discordancy, psychotic constructions and confronting designs. Especially within the 'faster' excerpts, the contrarian elegance of an act like Thorns might come to mind (cf. a track like Tchnienie Zamarzniętej Czeluści, for example [translated as 'a breath of a frozen gulf']). And despite the lack of fastness whatsoever, the intensity and energy never fade away one single moment. That filthy execution, by the way, gets strengthened by the very low-profiled production, as if the whole thing got recorded in an ancient dungeon where evil spirits suck away all life and light. Those evil spirits, by the way, get exhibited by the mean vocals as well (mainly a semi-narrative proclamation from the vilest pit, sometimes wretched and barb-wired in its bleakest / blackest core).
Despite the slow tempo, the unpolished sound-quality and the disharmonious structures, Ascendentes Metaphysicum has a lot to offer. Ah, you know, it's that general atmosphere that enthrals and bewitches. This counts as well when Grota Pramocy delve deeper into rather melodious atmospheres (cf. W Głebiach Prabytu Najczarnieszych ['in the depths of the blackest primary existence'] amongst others), yet especially when the subtlety of the technically-skilled approach reveals its elegant finesse. It already starts with the (way too short) opener Zejście W Czarne Groty ('descent into the black grottoes'), actually, but it continues through the better part of the album.
To keep it short and simple: I guess not everybody will fall in love with this effort. But hey, f*ck that, for at the other hand, it will be adored by some sick-minded human entities as well. Each listen will open new perspectives, unhide new details that make the whole experience more and more stunning and marvellous than the former listen.
https://www.metalshop.cba.pl/index.php?id_product=7247&controller=product&id_lang=5
https://hassweg-prod.com/en/lower-silesian-stronghold-releases/9765-grota-pramocy-ascendentes-metaphysicum-cd.html
https://wolfspell.pl/en_US/p/GROTA-PRAMOCY-Ascendentes-Metaphysicum-CD/5207