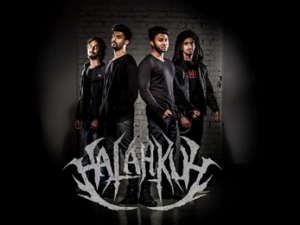 Release Date:
Thursday, October 30, 2014
We do know Transcending Obscurity especially for their superb support to the (underground) scene. Kunal Choksi and his crew try to promote the scene as much as possible, just like we at Concreteweb try to do as much as possible. And since his promotional activities focus especially on the Death / Black / Grind-trends, I do respect this Indian guy a lot!
However, Transcending Obscurity is not only a promotion / distribution entity. It is a label too that has quite some interesting bands on its roster. Very recently, on November 25th, we at Concreteweb did put the review for The Dead's Deathsteps To Oblivion undersigned did online, for example. And now you can read the review on the re-release of Desecration, the debut of India's Halahkuh. The EP was initially digitally self-released on February 9th 2013, a year and a half after the birth of the project, and it consists of four tracks, having a total running time of just over fifteen minutes.
Deathsteps To Oblivion opens with the instrumental intro Ordeal, combining somewhat Post/Prog-alike melodies with a dark yet very epic atmosphere. Then comes Sacrilege, bringing modern and, above all, extremely powerful Deathcore-epos, filled with tempo-changes, intelligent breaks, high-technical leads, a monstrous rhythm section, sadistic growls and the most vicious execution I've heard in years. What a track! Normally I am not that much 'into' modern sh*t whatever, but what Halahkuh bring right here makes me hungry, horny, happy! Possessed Strangulated And Enslaved (with its five minutes of length the longest composition on this EP) sort of continues that path, once again with grandiose tremolo leads, splendid rhythm changes and some of the vilest vocals I've heard in my (almost three decades long) career. Also In Extremis nicely mixes modern Deathcore with timeless melodic Deathrash and energetic Tech-Death, combining melody with brutality so easily.
A couple of remarks, however. The drums have been mixed too much onto the foreground, but most of all: this EP is way too short! Conclusion: a must for brain-shake-lovers!