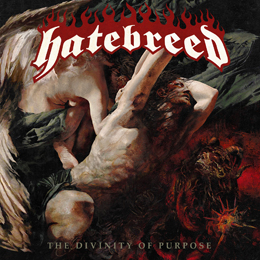 Years after years, Roadrunner Records' leading hardcore act was Hatebreed. They released groundbreaking records under the name of Roadrunner, but with the release of their new album, The Divinity Of Purpose, the collaboration came to an end. The new Hatebreed is released worldwide through the European label Nuclear Blast, home of many big metal acts.
The Divinity Of Purpose opens with the first single, called Put It To The Torch and it quickly proves that Hatebreed sounds more hardcore rather than metal again. They've clearly chosen the warpath again. Especially in the next song, Honor Never Dies, you can really hear that Hatebreed originally was a hardcore band, as the song is packed with heavy breakdowns. Also the third song, Own Your World, sounds like the embodiment of a vicious moshpit.
With The Divinity Of Purpose, Hatebreed smashes the masses straight in the face. Hardcore fans who lost their belief in the band, better reconsider and give this one a listen.