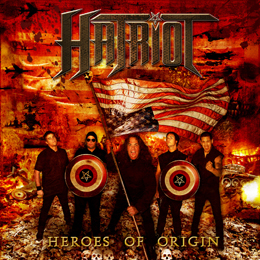 Old school Kreator is back from the early eighties? Oh no, my mistake, it's the Bay Area thrash band Hatriot. With Heroes Of Origin, the veteran metal singer Steve 'Zetro' Souza is back in action. We know this legend from his time with Exodus and off course from Legacy (now Testament).
Souza has a vocal style that few singers possess. He has the power and the sting, yet at the same time. His fans can understand what lyric's he's actually singing. He has his own style that had made him one of the premier singers in all of metal. Few bands can be fast, loud, powerful while staying musical and melodical. Hatriot gives you that when you listen to this album.
Already the band has earned worldwide respect having supported band like Forbidden and Testament and now it's time to break out that Bay Area.
One of the best albums in thrash in years! Check this one out!