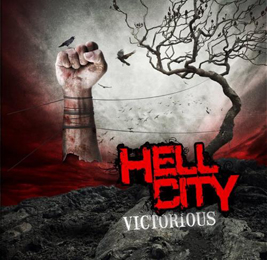 Release Date:
Friday, November 14, 2014
Hey, hey...4 years after having been exposed to this Belgian Heavy Metal band for the first time (at the opportunity of the release of their debut EP Here Comes The Sin, a review for which was posted on 10/03/2010), I find myself back in good company, the composition of which however changed somewhat over time! For those who don't get the hint: the band from Bilzen and Hoeselt (Limburg province of Belgium) has seen some changes in its line-up, making for drummer Tommy Goffin and guitarist Vincent Noben being the only remnants of the original set-up. [Trivial info not given with the review of the band's debut EP: the Death Metal act Tommy had been a member of, was named Death's Bride, and left us a total of 3 demos (released in 1995, 1997 and 1998) and an independently released split-CD with the bands Atroxentis, Magellan Dream, and Rule Of Thumb, issued in 2000]
Original guitarist Niels Coch (whom may still have contributed to the recordings of that first EP) had already left the band in 2009, and was replaced in 2010 by former Desperation and current Exterminator axeman Alan Coenegrachts. But that ain't the only change the band went through. As far as I can gather, the original (male) singer left his post somewhere in late 2010, and he was replaced by the far better female singer Michelle Nivelle early in the year following and obviously, this gave the band a completely different flavour! A flavour which the band already displayed on their Feb. 2012 released full-length debut Demons To Rest, released through the small Fakto Records imprint. I may be wrong, but I don't believe we at ConcreteWeb were put in the position to get acquainted with that renewed Hell City. At any rate, 2012 was also the year when bassist Ward Achten left the band, to be replaced by current 4-stringer Michaël Konovaloff, and during 2013 the band went through a final line-up change when Coenegrachts was exchanged for one Joris Jacobien. In that line-up, the band recorded the new song "Ice Cold Rage", which they independently released as a single on October 23 of last year.
I have no idea what the chain of events was after that (you know, info lacking...), but fact is that the band has since signed a deal for their album with the Spinal Records label, and found no less than Mikey Doling willing to produce their sophomore album...recordings for which were done at The Noize Factory Studio during April 2014. With mastering done by Uwe Teichert, the resulting sound is what you might expect, namely both crystal-clear and explosively thunderous! For some samples (of the songs "Victorious" and "Running In Circles") check out the home page of band's own webspace (www.) hellcity.be, or their facebook page (link at their own site, and containing even more material, such as behind the scene footage of the album's recordings, and the video to the song "Ice Cold Rage")
End conclusion: if you're into progressively coloured yet catchy Heavy Metal with an Iron Maiden flavouring, but with a face of its own due to the fact that they're fronted by a kick-ass female singer, then let there be no mistake: Hell City is the band to check out! By golly, yes...and there's no "national pride" talking here, when I say that this band, with the proper backing and the necessary endurance, might well make it big among the legendary bands in the genre! Darn, I like this band, and the fact that they've converted "Ice Cold Rage" into an acoustic balled for a bonus track, shows that these dudes have some serious arrangement capacities!