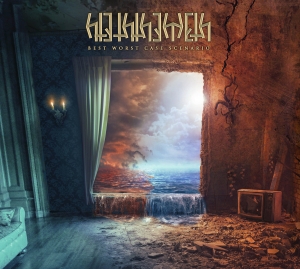 A young but quite interesting label, born to promote the underground of the Extreme Metal scene, and to distribute releases from especially the local scene, is Romania-based Loud Rage Music. They have some interesting bands on their roster, with three hands full of acceptable releases (for several of them, I did write a review in the meantime, and there are a couple of them coming up soon). But I do really adore the fact that they try to promote their local, national scene too. As you might know, the Romanian scene is enormously interesting, but largely underestimated. Therefore, Loud Rage Music are to spread suggestions, hoping that those specific recordings (and the bands / projects involved) get some additional promotion and support. Who am I to ignore this great initiative…
I had not heard of them before, and it's quite bizarre, but Brasov-based (an old yet nice city in the centre of the country, north of Bucharest, in the Transylvanian mountains) band Hteththemeth seemed to be formed almost twenty years ago, in 1999. But they did not release anything interesting officially, until 2013, by means of the split The Unhuman Split, with The Bipolar Disorder Project. Then things were silent once again for quite a while. However, apparently this band is quite known in their home country, and as live act they even made it to the podia of e.g. Wacken or the GBOB competition. This additional promotion might make them known outside their borders – who knows…
Hteththemeth recorded this first studio full length in their home city, with assistance of mixer / master Robert Cotoros. The record consists of fifteen tracks that last for five quarters of an hour (!), and being released in early Spring 2016 via digital way as well as on digipack-CD. And as unusual and even theatrical their moniker might seem, so is their music. After a bizarre and extremely disturbing, ominous intro, called The Prophecy, with spoken samples from, I guess, one or another motion picture, the band brings homage to the betrayal of man, the contest of human and angelic beings, and the struggle of life and love. No, it's not like a tribute for passionate love (though…), but it seeks the deeper truth and honesty of connectedness and how we handle related matters.
Musically, this stuff is enormously progressive in performance, yet not like in 'Prog-Rock'. The progressive execution is rather of an avantgarde kind, being modern and experimental permanently twisting, teasing and challenging the listener. Normally I am not 'into' this specific approach, but hey, what a nice surprise is this. Hteththemeth indeed are progressive in their performance, but they focus on a symbiosis of atmosphere, emotions (once again, as mentioned, not of the pathetic kind), conceptual depth, and aspects related to life and betrayal. It mingles Groove and Jazz, Progressive Music, Heavy / Doom Metal, Black / Death Metal, Gothic Rock / Metal, Symphonic Rock and Cold Wave, with a heavy rhythm-instrument basement and a gigantic variety in speed, execution and atmosphere. It surely is like a monumental soundtrack for a dark b-movie, but then again defined by an extremely creative and open-minded aural vision.
Synths are quite important to colorize some specific excerpts, veiling those fragments in a vast shape of spheres. Sometimes they are like waving an impenetrable web of obscurity at the background, then again they are rather meant to promote feelings like disappointment, sadness or resentment. Quite the same goes for the variated vocals of singer Lao. He uses his vocal chords in any possible way: spoken, clean, chanting, crooning, screaming, grunting and everything in between. It's impressive, this huge timbre of vocal possibilities. But also when talking about the lead string sessions and rhythm section, I just need to mention the enormous variety, in combination with great song writing and a well-thought, professional performance. Some parts are especially guitar-led, sometimes it's a blasting extremism that prevails, an introvert fragment, a melodious excerpt that breathes loss and despair, or a symphonic and bombastic part that focuses on majesty and megalomania rather than introversion and introspection. And you know, all this permanently interacts, yet in a very natural and spontaneous way. Even the few electronic injections are like part of an organic entity.
A couple of fragments are proggy-jazzy (cf. The Romantic Side Of Paris-  yes, what a revealing title – which indeed is like a modern Rock song with a differentiated Sixties / Seventies sound, with that organ / mellotron). Some pieces are integer and introspective. Others are quite angry, ready for fight, battle, defence and attack. Then some parts exhale emotions like lust and explicit longing. And so it continuously goes on, keeping the listener's attention on a high level, for the latter might want to understand the whole concept. At the same time, it needs open-mindedness, endurance, stubbornness and perseverance to get through this album. Several listens are a necessity, and seen its lengthy duration, it is not that evident to get through it. But it does not matter, in case the will of 'getting into' is present. Give it a try, if you think this progressive avantgarde material might be something for you. But keep in mind that Best Worse Case Scenario is a story, a narrative, and that differs from albums seen as 'a collection of individual tracks' – and that's of importance to understand the meanings and ideas.
The production, finally, is – to my humble opinion – too clean, I'm afraid. Okay, a modern avantgarde album does not need a raw, unpolished sound – yet I might have enjoyed some more roughness, especially within the heavier parts. There is, at the other hand, nothing wrong (at all!) with the mix, for every single instrumental addition is as important as any other. But seen that Best Worst Case Scenario is like a story, a sonic expression of what could be a movie, the clear and clean sound as appropriate.