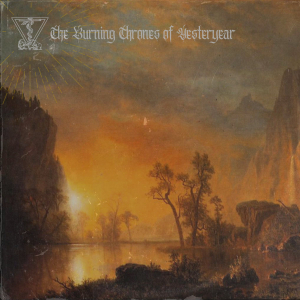 Album Title:
The Burning Thrones Of Yesteryear
I will keep it short this time, even though I am reviewing a truly magnificent act with the fabulous moniker Idylls Of The Last King. This review deals with a kind of compilation, which is dedicated – not just morally yet also financially – to the Republic Pilgrim charity organization, which tries to help youngsters from (Ukrainian) soil who are homeless, who are drug-addicted, or who have run away from their current life situation. This website does not deal with political issues or moral questions (though…), yet I do have nothing but respect for this kind of initiatives! I hope this review can support this action anyhow.
This review, evidently, also deals with the sonic aspect of this release. The Burning Thrones Of Yesteryear is not exactly a compilation, yet it is not a 'new' release either. Actually, it consists of three hymns that were part of the albums Dungeon Drone and Where The Gods Whisper Your Name Amongst Themselves, and also reimagined and reconstructed twice through ancient times and via modern times. And why not: dedicated to those of you who love the warm crackle of an old cassette, the familiarity of a worn piano, and the allure of vintage synthesizers…
More specific, The Burning Thrones Of Yesteryear consists of three hymns in three different versions: an archaic-sounding one (with material from 1987!), another re-recorded one, done in 2022, and the versions that made it to both higher-mentioned albums: Behold, The Mountain, The Journey Home and The Return. These three compositions appear in this order: first that 'ancient' approach, followed by the newest rerecording, and then the version that made it to the 'official' full-lengths, both of them released in 2021.
The Burning Thrones Of Yesteryear is like an adventurous journey through the unlimited passages of time, for each triptych (I prefer to call this collection of 'three times these three songs' this way) shows another sonic angle. Yet then again, despite a different approach, one cannot deny the coherent vision throughout, or despite, lapses and gaps in age.
The first set brings a dense, deep-spherical approach of glacial Dungeon Synth with an overwhelming Winter Synth sound. This material is so frigid, yet still with a warming veil that covers the whole. This material is dreamy and even soothing, for adventurous synth-melodies, joined by doomed keyboard-lines at the background, create a mysterious, even magic palette of enlightening thaumaturgy and gloomy bewitchment / enchantment. It got created (and this makes more sense, for initially I thought it was recorded thirty-five years ago) with equipment from 'back then', you know, Roland D50-stuff, as been used for Twin Peaks or The X-Files (gratitude to the creator for this explanation about his working process).
The second triptych was re-recorded very recently too by Mister Lawrence K., the very friendly mastermind behind Idylls Of The Last King. It surely brings another angel of his creative vision on Dungeon-inspired Music. Mainly performed on Grand Piano, these three symphonies, done earlier this year, have a rather introspective, neo-classical approach. This perspective works well, for it rather focuses on contemplation and thoughtfulness than any hazardous adventure. Integrity and modesty above animation and exuberance, you know...
The three versions that were on Dungeon Drone (The Journey) and Where The Gods Whisper Your Name Amongst Themselves (Behold, The Mountain and The Return) have been appraised before by undersigned (links to these reviews: see below). Here too that dungeon-inspired magnificence gets represented, yet with a rather heroic approach (that martial, bombastic attitude in Behold, The Mountain, or the adventurous-cinematic sound-score that characterises The Return), then again with a Dark Ambient-injected modus operandi (The Journey Home).
Conclusion: The Burning Thrones Of Yesteryear is a very attractive release that shows a varied attitude, a diversified craftsmanship by Idylls Of The Last King throughout different phases and eras. It is a recommendation and a pleasure to analyse these three divergent yet coherent points of view on a mutual concept, each time bringing an own, specific view, yet rationally systematic at the very same moment.
https://idyllsofthelastking.bandcamp.com/album/the-burning-thrones-of-yesteryear
https://www.concreteweb.be/reviews/idylls-last-king
https://www.concreteweb.be/reviews/idylls-last-king-1