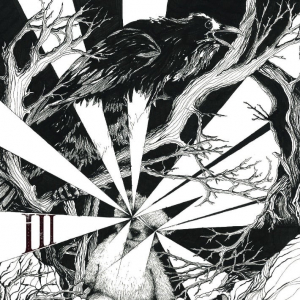 When the Hasselt (Flanders) based act Quaedt disbanded, a couple of its members, in collaboration with colleagues from Natan (also put to rest in the meantime), wanted to continue somehow. They created a handful of songs, which they gathered under the new band-name Ill ('ill', not the Latin number '3'). The purpose was to combine the blackened approach from the past with elements from Doom and Psychedelic influences. A first result was the album Tabescas Utinam Dei Volentibus (2015, Clenched Fist Records). Then things seemed to fade away for quite a long time. In that period of relative silence, the band struggled through a difficult era, caused by several line-up changes at the one hand, and a financial / practical setback, i.e. the burning of their repetition room.
But the band did not want to complain and remain static and paralyzed. They started performing live again, they wrote new material, and eventually Ill entered the Subterra Recordings Studio, which resulted in the making of their sophomore full-length, simply called Ill (once again, it's 'ill', like in 'sick', and not the number). They did sign to the Sounds Of Hell roster, a label related to the Hell Diest mob for the physical (and digital) release of that album. The compact-disc appears in 'normal' jewel-case edition, including quite psychotropic artwork (+ twelve-page booklet). That visual approach is a first link to the band's more psychedelic approach, compared to their former bands (like higher-mentioned Natan or Quaedt, or the likes of Demonic Empire, Bloodwraith, Malphas etc.).
The band uses lyrics in their mother tongue, i.e. Dutch (or Flemish, as you wish), and so are, evidently the titles: Vermoorden ('to murder'), Morgendood ('morning death'), Vals Ontwaakt ('falsely awoken'), De Drang ('the urge'), and Marche Funèbre, which isn't Dutch, as you know, yet the title of the very well-known funereal march-hymn by Chopin. And I'd like to start with this track. What Ill bring indeed is an interpretation of that classic piece. It has been done a thousand times before, again and again, by so many bands, so to make it interesting it needs to be apart, outstanding, whatever. Well, in this case, it's a 'nice try'. I know that this doesn't sounds that erotically exciting, but let's be honest. It's the original melody, performed modestly and quietly on grand piano especially, added by acoustic string-work, haunting voices (both grimly guttural and painfully mesmerizing ones; with the latter, it reminds me of this song's readaptation by Sopor Aeternus, by the way). Hey, it's not a bad thing, you know, but it doesn't add any value.
But let's not just focus on that outro of this album. The four 'main' tracks, quite lengthy in approach (in between six and nine minutes each), show a mature band with solid, somewhat eccentric and dynamic blackened compositions. It's a form of modern-sounding Doom-laden Black Metal with many influences from related genres, with quite some variation in song-writing and tempo, and with a distinctive post-modernistic execution. And this, of course, defines the psychedelic approach. The four songs indeed contain structures and sequences that aren't that evident, injecting the whole with an intriguing, bewitching unpredictability. The rhythm structures and leads permanently intertwine with avantgarde constructions, sudden breaks come and go, weird acoustic intermezzos appear and fade away, the tempo continuously shifts, and the varied vocal scala (mainly ice-breathing or venom-spitting screams and some deep-throated grunts, as well as whispers and sighs, spoken words, yells, you know…) confuses and disturbs. That in a nutshell…
Seriously, Ill is an experimental yet, at the same time, obscure and oppressive album, which includes some / several avantgarde and even jazzy moments (cf. the introduction of Morgendood, a heroic hymn with an atmosphere of victory and pride, almost Pagan / Viking-laden, cf. the main melodies and fabulous bass-lines), groovy and sludgy elements (like in Vals Ontwaakt, a morbid Doom-epos with an overwhelmingly savaging sphere), details from Doom (the importance of Traditional Doom / Doom-Death and even Funeral Doom are undeniably of huge importance within the total adventure!) and, why not, Death Metal, and a huge does of progressive and twisted elements, as well as acoustics (I come back, shortly, to this immediately). But the good thing is that the whole does not turn into some ridiculous experiment (at all). Sometimes bands try to be 'inventive' and the result is some laughable and pathetic thing to undergo. In this band's case, the experimentation sounds well-thought, well-elaborated and well-executed. Damn yes, despite the unusual and sometimes contrarian fragments, it sounds even organically well-balanced too.
Of course there is a huge dose of variety, yet each single piece remains characteristic and distinctive at the same time. As said, acoustic intermezzos are often represented, giving this material a touch of epic pride and / or integer elegance. It's not Folk-oriented (at all), nor acting like 'filler-stuff'. No, the injection of acoustic fragments gets done very decently and convincingly, and it fits into the whole concept for sure. Besides, it's a nice counterbalance against the rather progressive side, being canalised into that diversified yet still organically cohesive result.
Anyway, this album might need (or better: does need) some listens. Each time I delve into the thing, I uncover new elements, subtly, surreptitiously, secretly. It mingles so-called 'orthodox' foundations with inventive and creative additions and it might end in surprisingly positive vibes. …worth being checked out!
https://www.helldiest.com/product-page/ill-ill