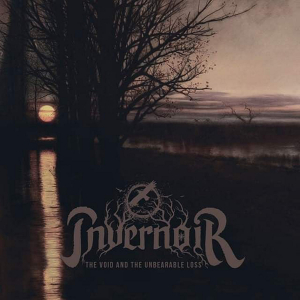 Album Title:
The Void And The Unbearable Loss
Hailing from Rome, Italy's capital city, Invernoir is quite a young band that includes current and former members of e.g. Ars Onirica and Black Therapy. As a quintet, they independently released a three-track EP in 2018 (actually three tracks and an outro, to be honest), aptly titled Mourn – a title that surely points the musical direction where we have to define this band. After a few line-up changes, the band decided to enter the studio in order to record their debut full-length. Line-up for this recording session was: Valerio Lippera (bass guitars), main composer Alessandro Sforza (screams and grunts, lead and rhythm guitars, drum programming and additional percussion) and Lorenzo Carlini (guitars, clean voices and drum programming) [drum programming, for their former drummer left right before entering the studio, and a new one wasn't recruited yet at that moment]. The trio recorded their debut album at the Blue Ocean Recording Studio (also in Rome), with Lorenzo taking care of the engineering duties.
Eight newly recorded tracks got gathered under the mighty moniker of The Void And The Unbearable Loss. Eventually, Invernoir signed to Armenia's Funere (a label run by Jane Orpheus, the partner of Satanath Records' Aleksey) and to BadMoodMan Music, a division of the Solitude Prod family. This partnership took care of a physical edition of 500 copies, being a jewel-case compact disc, which comes with an eight-page booklet. That one includes the lyrics -mainly in English, with Italian excerpts- and nice artwork by Adhiira Art. One word about the texts: they are partly written by Alessandro, and partly by Rome In Monochrome / Aurora Nowhere's Valerio Granieri [the band's new drummer, Flavio Castagnoli, is part of the Rome In Monochrome line-up too, FYI]. This guy, Valerio Granieri, also performs guest vocals on one track (The Burden).
So, The Void And The Unbearable Loss (great title, once again giving a clear hint to the aural approach) consists of eight average-lengthy pieces (in between five and seven minutes), having a total running time of about fifty-two minutes. They say their inspirations are based on the likes of Anathema, Katatonia, My Dying Bride, you know, and seen the album's title, I think that might be quite appropriate. Well, the album opens with the title track, and this song leaves no doubt: this might be some tribute to the somewhat extremer Doom scene from the Nineties for sure. The first half of the track is constructed around an acoustic instrumental melody, with different layers, a Shoegaze / Post-Rock attitude when talking about the slow-paced and integer guitar-work, and dreamlike, even emotional synth-lines, including the sound of rain falling down on our physical shape (oops, I'm getting poetic). The second half shows the heavier side of Invernoir's raison d'être: an intriguing and slowly performed guitar lead, supported by great drum-work (I almost can't believe that this is drum programming, for it sounds so naturally (a)live), a monolithic rhythm-string section, and in addition some captivating leads (hypnotic stuff), dual guitar-work and mesmerizing synths. There are several layers, which are organically put together, and this makes the opening sequence of The Void And The Unbearable Loss a promising thing.
Will it continue this way, after that auspicious introduction? Well, not at all if you're looking for something totally renewing. Why? Well, a definition like 'originality' does not fit in here. So, if you're looking for a band that does reinvent the scene, you better stop reading.
But… What if the lack of originality is totally inferior to quality, persuasion and a satisfying listening experience? Well, that's exactly what's going on right here. Invernoir indeed lack of invention or progression, but damn, they do pay tribute to the (old styled) Doom-Death scene with conviction and craftmanship. The material comes with all necessary ingredients, going for instrumentation and vocals, tempo, concept and structure. I won't go to deep into all of these matters, yet a brief description might be helpful.
Instrumentation: the known package: electric lead and rhythm guitars, with songs generally based on tremolo leads (once in a while purely hypnotic) especially, and firmly supported by well-balanced strings; acoustic and semi-acoustic chapters, as intro or intermezzo; drums and percussion with typifying patterns (as said: almost unbelievable that we aren't talking about live-recorded drums); keyboards adding atmospheres of grief, wonder, introspection and intoxication; and even violin (performed by some Margherita Musto, in the track The Path).
Vocals: especially a balance of clean chanting, deep growling (sometimes pushing the whole into a funereal direction) and angry screams; also spoken words, whispers, you know, the expected, the needful, the basic elements that characterise this stuff.
Tempo: of course it's slow. It's very slow, but because of the guitar-oriented basement, it's never dull or monotonous at all. There are several accurately performed changes withing the speed, but it remains between the extremes of 'just slow' and 'very slow'. Yet still, one won't miss the lack of faster outbursts, for the variety keeps this listening experience interesting the whole of the time.
This works well, of course, in combination with the diversification in the songs' structures. Do not expect sudden breaks or progressive hooks, yet many smooth changes within the construction of each single epic. The equilibrium of different moods works surprisingly well, for the experience maintains a continuously thrilling excitement; no, it's not 'sensational' as in 'shudder' or 'ebullience', yet rather causing shivering and rigorous sensations and emotions.
Concept: this goes smoothly hand in hand with the former aspects, of course. Pain and loss, nightly visions, desperation, it's all naturally embedded within the dramatic ballads. The trio behind this album was able to create a well-known concept with predictable elements and themes, yet at the same time with giving it an own face, an own twist. The content of the lyrics are not renewing, yet the play-of-words is of a strong level for sure: effective, even laborious, and apposite.
As you might understand, and as sort of mentioned before, the lack of being original is of no importance, even otiose. Reason is this band's ability to write and perform fine tunes that pay homage to the origins of the scene for sure. In combination with the very professional sound quality, the result might appeal to all fans of, let's say, Swallow The Sun, Draconian, Katatonia, Officium Triste, Anathema, Woods Of Ypres, Doom:vs, Saturnus and the likes…
https://funere.bandcamp.com/album/the-void-and-the-unbearable-loss
https://invernoir-band.bandcamp.com/album/the-void-and-the-unbearable-loss
https://badmoodmanmusic.bandcamp.com/album/the-void-and-the-unbearable-loss
https://solitude-prod.com/releases/badmoodman-music/invernoir-the-void-and-the-unbearable-loss/