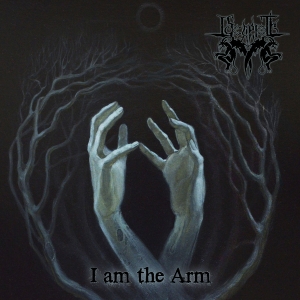 Iscarioth are a pretty young Russian formation, on this debut album consisting of Dmitry Martyushev (acoustic and electric guitars, lead and backing vocals, bass guitars and synths; as well as music and lyrics), and drummer Alexander Epishkin. FYI: in mean time Iscarioth recruited Vitaly Smirnov (bass; he co-wrote some lyrical parts too) and Maxim Smolyaninov (guitars). The duo recorded the stuff for this album at the Mix Art Records Studio during inter 2013-2014 with producer / master Yuri Chaschev.
I Am The Arm is the first album by Iscarioth, having a total running time of forty two minutes. It comes with rather strange yet pretty original artwork (done by a certain Anna Reshetnicova, in case it might interest you), and it comes, once again, in an edition of 500 copies.
The album opens with the intro Ave Iscarioti, which is such a thing that refers to the horror movie scene from Italy or the U.S. two-three decades ago: bombast, orchestrations, delirium… But then, as from Mountain Echo on, Iscarioth show their (sharp) teeth. What these guys bring is a mixture of both Death and Black Metal, of both tradition and modernism, of both catchiness and experiment. The execution is quite grooving and energetic, despite not always being (ultra) fast in tempo, and this corresponds pretty well with the somewhat rough yet little cleaned-up production. Especially mix-wise this gets to its peak; the overall sound might have some failures – but then again: who cares?
I try to temper my enthusiasm, because of this combination: few original performance and average song writing. I've heard worse stuff with 'more' originality, and I did meat, sorry, meet totally non-original stuff with stronger results… I am afraid this band dwells somewhere in between. They are not bad, yet not overpowering, and the lack of being 'different' this time does hurt ;-( … Let's say that I can enjoy this material, yet seen the current scene (cf. 'my personal collection', hehe) I need to say that there is quite some other material available that might be much more enthralling, satisfying…