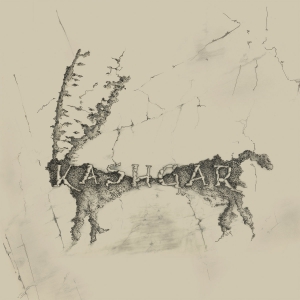 My 'knowledge' of the scene from Kyrgyzstan is enormously limited. With exception of Shahid, Darkestrah (though I admit that I have not been following them anymore for more than a handful of years) and Panzer Bulldozer, I have no idea what's going on out there, in the centre of Central Asia. And then, suddenly, Aleksey K. did send me an album by a band from the capital of Kyrgyzstan, Bishkek, called Kashgar. It's a young formation that seems to include at least one musician that is active within the underground Metal scene in this country. Bass player Warg, vocalist / drummer Blauth (he left in the meantime) and guitarist Ars recorded a first album in between July 2015 and early 2016 in their home city, with assistance of several studio / guest musicians. The result was mastered by no one else but Greek guitar player Achilleas Kalantzis, whom you might recognize from e.g. Varathron, Aenaon or Katavasia. The band independently released it in Summer 2016 via digital sources, and in very early 2017, Manifest Of Hate Creations came up with a vinyl edition. And recently the productive Italian / Russian collaboration of MurdHer Records and Symbol Of Domination Productions resulted in the release of the first (and sole) album on compact disc. It includes a twelve-page booklet, lasts for thirty-eight minutes, and comes in an edition of 500 copies worldwide.
What strikes me most, and it was the case with my first listen of this album, and still it is, must be the sound. The production is extremely clean and clear. It's not that I would have expected something else from a country 'far away', but I am truly blown away by the virginal purity and faultless correctness of the result. It's not an over-produced, clinically polished experience, yet just a full, well-balanced production.
What these guys bring is a very technically executed and progressive-oriented mixture of Melodic and Modern Death Metal. It sounds very European, with several great elements. The progressive side signifies an extremely technically high-standard rhythm section in combination with avantgarde structures and well-crafted riffing. It's a multi-levelled symbiosis of different instrumental layers, gathered into one cohesive sonic experiment. The band makes use of influences from related genres, like Black Metal, Post-Rock, Doom, Groove, Folk (not the Happy Hippie kind), Thrash Metal and Prog-Rock.
Remarkable too are the ingenious song writing and the professional execution, on top of the sublime production, the progressive technics executed, and the organic injection of other genres. There is quite some variety in structure and tempo, in instrumental handling and within the vocal timbre as well. For the better part, the energy is forceful and merciless – especially within the heaviest parts the power has no boundaries. Yet still there's room for subtlety and intimacy too; listen for example to the opening sequence of Erlik, coming with something like a cinematic feel.