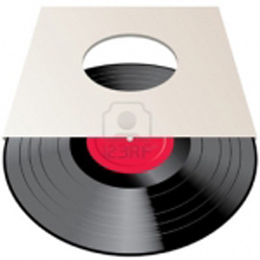 Release Date:
Wednesday, October 1, 2014
Cyclic Law, one of the greatest Ambient / Industrial labels from our era, recently started up a new division, Cyclic Press. It will not focus on sonic supremacy, yet rather on another aspect of spirituality and occultism by releasing books and stuff. And their first release is Inlumaeh, a collaboration in between Krist Mort and Lamia Vox.
This release is a very special one, for it is a co-operation in between two artists that dwell in different angles of Esoterism: visual and aural, and therefor they are on the Cyclic Press-roster. It is the first thing, by the way, on this sub-label. Russian artist Lamia Vox created a new piece of Aural Art, which I will come back to immediately. The visual part is a 90-page photo-album by Krist Mort, a young yet extremely talented Austrian photographer, known from truly magnificent pictures and video's, that deal with occultism, mysticism, eroticism, spirituality, ritualism, nature, life, you know… We at the Concreteweb headquarters did not receive the book, so I can't say much about it, but I'll recommend you to check this woman's profile on her home page (kristmort.com).
We did receive the mini-album that comes with that book, and that's, of course, what this review will focus on. Lamia Vox, a project of Russia's Alina Antonova, did release two albums before, … Introductio and Sigillum Diaboli, which were of an extremely high quality seen the lack of experience. But Alina is continuously evolving; she's even taking private courses to develop her sound.
Anyway, Inlumaeh consists of three rituals, united in a twenty-minute sonic journey, floating through the same spheres as Krist Mort's relation to the themes I mentioned (occultism etc.). It relies on deeper aspects of these states of mind, but actually that's an understatement. The ice-cold approach strengthens the emotions of desperation and death. Perfectly fitting to Cyclic Law's roster, this grim adventure at first sounds minimal and repetitive, yet despite the primal structures, there's so much to experience and enjoy (though the definition 'to enjoy' might sounds little cynical). The Music is dense and dark, and does create an attractive mystery, which makes the listener longing for more. It captivates, it suffocates as well, and it surprises for coming with those subtly hidden, deep-rooted mesmerizing dimensions. Unique are the ghostly vocals, sounding like an ambient instrument and somewhat comparable to the voices Peter Andersson used to add in his Raison d'Être-outlet. What I like as well is the constructional progression towards the end. While both first rituals sound rather nihilistic and Arctic, the last one sounds more animated, with tribal percussion and such wonderful (read: beautiful!) synth melodies, with once again those hypnotic voices.
No matter if you're into the dreamy soundscapes done via labels like Memento Mori, Cold Spring, Cold Meat Industry or this Cyclic Law, you will adore Inlumaeh!