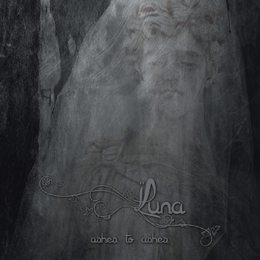 Luna are a solo-outfit by Anton Demort, aka DeMort, whom you might know from the Doom-Death band Amily (remember the nice To All In Graves-album in 2012, also done via probably the greatest Funeral Doom / Doom-Death label on Mater Terra, Russia's Solitude Productions?). He started this project one year ago and now comes with the first album, called Ashes To Ashes.
I'll start with a joke: I am truly disappointed in this album, for it consists of one track only. Of course I'm just kidding, because this composition lasts for fifty seven minutes. Within this specific genre, it isn't that unusual to have extremely long hymns, cf. the likes of Monolithe or Ea. Remarkable too is the fact that this is an instrumental recording, without the use of any vocal line (with exception of a throaty intermezzo somewhere during the second half of Ashes To Ashes).
Ashes To Ashes is a grandiose epic, which starts with an oppressing, haunting and atmospheric introduction, based on keyboards only. After almost two minutes, ultra-heavy guitars and pounding drums join in, transforming the whole experience into a hypnotic, bleak and bombastic form of Atmospheric Funeral Doom, the core of Luna's sonic expression. And that's how this track evolves. Every couple of minutes, it slowly and subtly turns or twists by recreating another tempo, structure or melody. Despite a very unambiguously and rectilinear vision, all drenched within the same depressive and / or melancholic mood, Ashes To Ashes turns out to be a very varying masterwork. And despite this variety, this is an extremely cohesive, same-minded monument with logical, organic transitions; not sounding like an incoherent collection of different riffs and melodies.
Besides an extremely heavy rhythm section and interesting leads, the presence of keyboards is of undeniable importance. Throughout the whole song, keyboards return over and over again. Sometimes they are prominent, then again adding a dark, dense sphere, creating a depressive mood, or bringing forth an attitude of despair and anger. But the balance in between these keyboard lines and the 'other' instrumentation is, without exception, intelligently thought-through. Also bells, violins and piano (the first two in a limited, sporadically amount, the latter spread out over the whole album) pass the revue, but still without turning into a pulpy or mellow form of semi-romantic catchiness.
One might miss the 'usual' grunts. I do not, though initially I wondered if this could keep my interest whole the time. Well, after four listens in mean time (this review is my fourth listen) I am convinced that vocal lines have no value. They could have been a surplus, but the music itself is so beautiful that one does not need them.