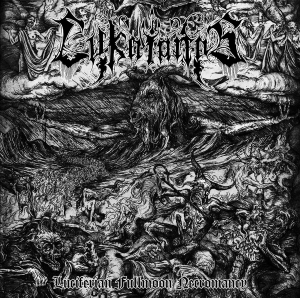 Album Title:
Luciferian Fullmoon Necromancy
I think the Greek scene has always been largely underestimated. Some 'big' names did reach the rest of the world (as from the Eighties), but there's quite an impressive underground scene too with some excellent outfits, and unfortunately they do not (always) get the attention they (sometimes) deserve. With gratitude for Hass Weg Productions (and distributing partner-in-crime Lower Silesian Stronghold), at least one band sort of crawls out of the bottomless pits of oblivion.
Lykaionas are a grandiose formation that firstly impressed me with their contribution on the Mesaionas / Legions Of The Serpent Race split (with fellow countrymen Nergal) from 2009. Then everything got dark for an unbearable era, until the band returned (reformed?) in 2014 by means of the self-released Arcane Bloodcult Mysteries demo-tape. In early 2015 Fistbang Records (hey guys, are you still around?) offered us a two-track 7"EP, called Litanies Of The Black Occult, and now, finally, Porphyrion, with newly recruited musicians, recorded and released seven new compositions, gathered under the Luciferian Fullmoon Necromancy banner.
Luciferian Fullmoon Necromancy was written and performed by founding member Porphyrion (who's currently involved with Nergal and Kawir as well), with assistance of drummer Yngve (he worked with Lykaionas before, and he surely is one of the most productive / active drummers from Greece) and multi-instrumentalist Melanaegis (who recently joined the Kawir line-up, by the way). Mix and mastering were done by Soulskinner's Kostas Savvidis at his Dope Of Sound Studio.
The album, which has a total running time of about fifty-three minutes, opens with Satanic Tyrant Of The North. And you know: this is a starter that immediately (and you'll see: permanently) pleases the eardrums of all those who call themselves Black Metal adepts. No, I'm not talking about those who ejaculate spontaneously when listening to Cradle Of Filth, the newest Satyricon or the likes of Subliritum. I am referring to the 'true' face of Evil! Hail! Hail! Hail!
No, seriously, with Luciferian Fullmoon Necromancy, Lykaionas show their supreme existence once again as from those opening sequences of the first epic. Satanic Tyrant Of The North, and so are all other compositions, combines epic melodies with heavy rhythms and a powerful, overwhelming sound. There is a lot of 'epic' going on, and then I am talking about the glorious supremacy of very early Forgotten Woods, Hades (pre-Hades Almighty) or Enslaved. …Norwegian, you think? Well, actually, yes and no. For sure the Nordic scene has been a major source of inspiration (why not, don't we all adore that current?...), and even the sound quality sort of refers to the glory days of the mighty Grieghallen era – yet keep in mind that we're currently living in 2016, so there's much more of a professional result going on than two decades ago (yet without betraying the rawness of the old scene).
In general, this material is quite up-tempo and energetic, firmly guitar-oriented (what a grandiose guitar leads). But do not underestimate the importance of the whole rhythm section either (and it's this one especially that reminds me of the Norwegian bands I just mentioned; listen carefully to the rhythm guitar and bass passages, for example, and then you'll admit that I'm right). Besides, Porphyrion's voice (haha, 'voice', what a lapsus) is just sublime – spitting blood and mucus, venom and sulphur, strongly on the foreground yet never taking over the whole experience…
Well, I can go deep into a description of all different details that characterise the compositions on Luciferian Fullmoon Necromancy. Just listen to the lengthy closer The Four Crown Princes Of Hell, for example. But I won't. The reason is quite simple. This album does not need any more additional information. The Aural Art says it all. It would lead to a focus on poetic descriptions rather than the essence of Black Metal supremacy, and that would be a shame. Without doubt – and I know that this isn't but a personal, and therefor subjective, given, but you might (must) agree – this album is SUPERIOR! It brings back the most majestic elements of the Past, and the band never loses control. No fillers, no gimmicks, no trends: just the purity of the Second Wave Supremacy is what you'll experience when listening to this fantastic recording. Hail!