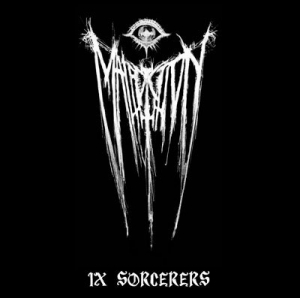 Short statement: I do a lot to support those labels and bands that, to my opinion, deserve it. That's why I come up, more than once, with an older release. Okay, it is not 'up to date', but whatever. It might deal with something that deserves all additional promotion and support.
Well, this goes for IX Sorcerers by Toulouse-based anti-trendy act Malediction. It was the sole album by this trio, being drummer G., vocalist / co-lyricist ArmaggueddA and bass / guitar player L. Empyrium (also music and lyrics). It was one of the first releases by the 'true' Black Metal label Hass Weg Productions, yet worth being mentioned, even after seven-and-a-half years of existence. The compact disc edition was released in 500 copies, including a four-page booklet that (unfortunately) does not include any lyrics. But believe me: it is not some love story these guys are bringing… The original release date, FYI, was June 29th 2011 (the scroll-down does not include that era anymore).
IX Sorcerers was recorded at Infernal Procession Satanic Studio in 2009 and consists of six chapters, which have a total running time of forty minutes (in between four and nine minutes per track). Cool cover drawing, by the way!!! The journey opens with The Supreme Order, and as from the very beginning (a very impressive beginning for sure!) you notice that this defunct band was created to pay tribute to the purest essence of Black Metal. No trends, no gimmicks! The album stands for a timeless form of universal and melodic Black Metal with quite some variation in structure and tempo. Built around technical yet not too complicated riffing by L. Empyrium, these pieces are guitar-oriented, and then I am talking about both rhythm and lead guitars, and fine bass lines. The leading parts have a hypnotising flair, especially within the slower and mid-tempo parts, while the faster excerpts (sometimes purely blasting and erupting) are straight-forward and uncompromising. At the same time, there is a fine-tuned technicity (not of the progressive kind, yet rather well-balanced in execution) as well as a glorious, epic identity.
There's more than the string-based presence. The drum patterns, done by G., are totally top-notch. Militaristic when needed, supportive when necessary, and totally devastating within the pyroclastic outbursts. Both the hammering / chopping parts as well as the almost melodious patterns, this kind of percussion sounds oh so fabulous. I even dare to call it 'original' in some parts (just focus on the drums in a hymn like Impure & Profane, showing the diversity of this guy's play, or the opening sequence of the album, the starting fragment of The Supreme Order!).
And then you have these sulphurous and rusty screams of ArmaggueddA. Most of the time, he spits venom and acid, as if his nuclear-poisonous lungs will be puked out. No high-pitch nonsense, yet deep, powerful grunting screams are what you'll get. Occasionally, there are abyssal growls, semi-spoken words or even more 'clean' passages too, which strengthens the variating structures of the album.
IX Sorcerers stands far away from modernism, yet then again it is ridiculous to put a label on it, for this album transcends the First and Second Wave – though it has quite some elements reminiscent of the glorious Nineties era, evidently. Bu the sound differs from, well, let's say the 'traditional Nordic-styled' scene. Yes, it is raw and unpolished, and yes, it sounds rough and harsh. But it has not that Grieghallen-alike tangle; and the Horned One knows that I deeply adore that specific Grieghallen sound a lot, but in this album's case I do not care… Besides, the mix is enormously professional, even though the studio concerned is not such a 'major' one. But truly, I talked about the guitars, basses, drums and voices, and all comes in such perfected equilibrium. There are no annoying noises, no strings taking predomination, no mish mash that makes the basses or rhythm guitars fade away in a muddy wasteland…
And finally this. This band incorporates some acoustic excerpts and a handful of field recordings / samples in a very modest, subtle way. But the importance is inseparably connected to the overall result. And more important is that these additional instruments / additions – and the same goes for the narration – do not depreciate the grim, blaspheme attitude of the album.
Esoteric hallucination! Occult revelation! Majestic ear candy…