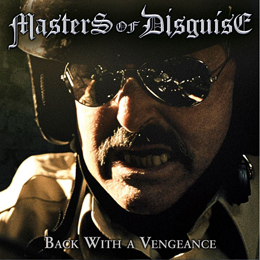 Release Date:
Friday, November 22, 2013
Masters of Disguise is named after the album SAVAGE GRACE (1985). Same cover concept a patrol cop, the infamous officer Knutson. Maybe a return… The band is formed in 2013 with members: Kalli Coldsmith (Guitar), Mario Lang (Bass), Neudi (Drums), Roger Dequis (Guitar) and Alexx Stahl (Vocals).
"Back of Disguise" a bring back of the greatest days of speed 80s metal ! Well I must say yes this album is back to the 80s… Opener "Back With a Vengeance" a very good example how speedy metal must sounds today. An intense of real Power Metal combined with new recording technics. Just 2 minutes but sounds great! All the sound are breading the 80s speed metal like Riot, Omen, Agent Steel, … the guitar work of  Kalli & Roger sounds so harmonic with some clean riffs and straight, speedy solos.
"Scepter Of Deceit" a cover from Savage Grace off course what else. "Alliance" sounds like Iron maiden, I see Eddie on the background. All by all not a bad album. A good cd to knowing the old 80s …speed metal sound.